A man convicted of killing an 11-year-old girl 40 years ago in Boston over a pair of sneakers had a parole hearing Thursday in Natick, Massachusetts.
Val Mayfield was found guilty in the 1983 murder of Maryann Hanley. He was sentenced to life in prison without parole, but because Mayfield was a juvenile at the time of the crime, he is now able to make parole due to a Massachusetts Supreme Judicial Court ruling.
"We don't even know what Maryann's life would have been," said her sister, Janet Kulka, after leaving the hearing. "And you're whining. You got everything. The only thing you lost is your freedom, so sit down, shut up and do your time."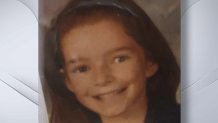 The murder happened at Ronan Park in Dorchester. Mayfield, at 17, sought revenge after he thought Maryann had ratted him out for stealing a pair of sneakers.
"Maryann pointed him out and said there he is right there, and he had the sneakers on," explained her older sister, Barbara Rose. "And then later on, he took her to the park and beat her, raped her and killed her."
Mayfield told the board that he had a troubled upbringing and has since worked on healing himself.
"I keep going back to what I've done, and it's very hard, but spiritually I have asked for forgiveness," he said.
More on violence in Boston
Despite his plea, his own daughter spoke out against him.
"I speak today because I need for him to stay behind bars," she said. "I don't need for another family to have to go through what we're still going through."
Thursday's hearing was Mayfield's second parole hearing after being denied the first time in 2015. It could take several months for a decision to be made.