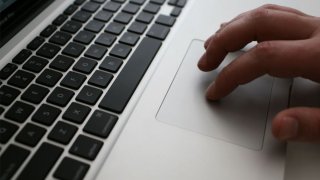 Officials in Vermont urged residents unable to connect to the internet to contact authorities in an effort more make sure everyone can access vital resources amid the coronavirus pandemic.
During a news conference, June Tierney, commissioner of the Vermont Department of Public Service, said those without connectivity should call the DPS, which would work to help them.
Such residents could include those who need to access remote learning or telehealth resources or are looking for a job or other essential resources.
"Even if it is temporary, we need to reconnect" people with the internet, she said.
Tierney said the state had identified 38 towns that had no connectivity, and working with telecommunications companies, had set up Wi-Fi hotspots where people could access the internet from their cars.
Meanwhile, Gov. Phil Scott said the state would begin allowing self-employed residents and independent contractors impacted by the crisis to apply for unemployment benefits.
According to the Department of Labor, the administration hopes to begin accepting applications by Wednesday. Funding will be provided by the federal government and distributed by the state,
As of Wednesday, the state had reported 823 cases of COVID-19, the disease caused by the coronavirus, including 40 fatal cases.
During a news conference Monday, Health Commissioner Dr. Mark Levine said modeling shows the slope of the curve continues to plateau.
The health commissioner said the state is focusing on isolating and quarantining those infected in order to keep the case numbers low. Health officials also need to protect the most vulnerable and to not exceed capacity in the health care system, Levine said.