Coming off the warmest July on record for some of New England, it would take a mammoth change in the weather pattern to bring this freight train of warmth to a screeching halt. A pattern change like that seems highly unlikely to our First Alert Weather Team, which is a big part of why we're predicting warmer than normal temperatures for the month of August.
Considering the bigger picture, cool pockets in July were found over Eastern Europe and Siberia, but most of the remainder of the Northern Hemisphere saw warmer-than-normal conditions. So, unless the jet stream troughs – the dips in the jet stream winds that allow cool air to spill south – re-establish over the Northeast United States to such an extent to pull down abundant cool air, we're unlikely to break out of the dominant warmth.
As of this first day of August, we do see indications of the jet stream buckling south from time to time this month. However, it's not so much as to flip the temperature pattern; perhaps just enough to keep two other July features going: occasional rounds of strong thunderstorms and shots of lower dew point, relatively pleasant air between hot spells.
When we put all of this together, this amounts to a continuation of the recent weather pattern of warmth in August.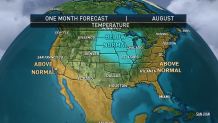 Precipitation is always a trickier forecast this time of the year for two big reasons: thunderstorms and the tropics.
The thunderstorm impact was on display in July. Spots that were hit directly by some of the stronger storms saw above normal rainfall for the month, while those who missed the storms fell short.
Local
In-depth news coverage of the Greater Boston Area.
If we're predicting a similar weather pattern into August, one could reason the rainfall pattern also should be similar.
Generally, when your precipitation forecast hinges upon the exact placement of thunderstorms, particularly in a pattern such as this with shots of dry air alternating with deeper heat, it's wise to predict drier than normal conditions for the area. This is knowing some locales will be the exceptions where storms hit.
We opted for "near normal" rainfall, however, in Eastern Massachusetts through Rhode Island and Southeast Connecticut for the propensity for thunderstorms in this pattern to pick up tropical moisture as they settle southeast.
[NATL] Extreme Weather Photos: Record Heat Threatens Europe
Having said that, the tropics have been quiet for much of this season and while there are signs we'll see more Atlantic development in the coming days from this post, frequent shots of drier air to New England give little indication we should be overly concerned about a system running the coast.
The window will open at least a few times over the month as a large dome of high pressure will remain strong over the Atlantic.