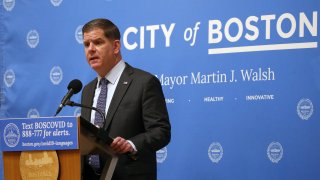 Boston Mayor Marty Walsh signed an executive order Thursday aiming for a quarter of city spending on contracts to go to women- and minority-owned businesses, he said at a news conference.
The order comes after a study of the disparities in city spending, released this month, found that a very small portion of city contracts have gone to minority-owned businesses. The study sparked a legal complaint, but Walsh defended it as necessary for figuring out how to resolve inequities in city spending.
"We knew going into the study that the results were not going to be good because we've been talking about it for the last seven years," Walsh said. "We knew that deep inequities exist in contracting here in the city of Boston, but the study gives us a detailed road map and a legal tool … to attack those inequities at the root."
He said the study had suggested that 17% of city spending be directed to businesses owned by women and people of color, but the order put the number at 25%, 15% directed to women-owned businesses and 10% to minority-owned businesses.
The study found that Black- and Latino-owned businesses received jut 1.2% of more than $2 billion in contracts handed out by the city between 2014 4and 2019, according to The Boston Globe. The finding prompted a complaint to be filed by three local organizations who allege a pattern of discrimination.
The order also sets "tracking and accountability measures" and a program to give more opportunities to impacted businesses, according to the mayor's office.
Also Thursday, Walsh reported "great news" on trends in local coronavirus metrics.
Local
In-depth news coverage of the Greater Boston Area.
Active coronavirus cases in Boston have been dropping since late January, according to the city's COVID-19 dashboard, and the mayor said other metrics have been dipping since early January.
Testing is up while the community test positivity rate is down to 4.2%.
"That's below our 5% threshold and the lowest positivity that we've seen since October, so we're definitely grateful to see these numbers going in the right direction," Walsh said.
He put the total number of cases in the city at 57,031 and the total deaths at 1,241.
Walsh is in the middle of the confirmation process for his nomination as U.S. secretary of labor. He had his confirmation hearing two weeks ago and his nomination was advanced by the committee last week, though he still must be confirmed by the full Senate.
Walsh said Thursday that "our thoughts and prayers are going out to the people in Texas" who are contending with a debilitating winter storm that's knocked power out to millions.