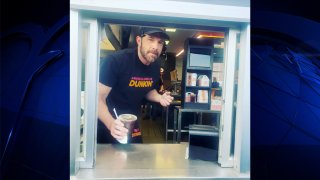 Click here to watch the Dunkin' Super Bowl commercial that premiered on Sunday
It's going to be hard for any Super Bowl commercial to be more Boston this Sunday.
Dunkin' has unveiled the teaser trailer for its Super Bowl ad starring Ben Affleck. They shared the tag "Something's Ben Brewing" to promote it on Thursday and posted a short clip of the movie star talking to a customer over a PA system, starting off by saying, "Whaddya need?" in a thick Boston accent.
Dunkin' didn't actually share video of the Boston-area native taking orders, but that's likely what we'll see on Sunday.
Affleck was spotted slinging drinks at a drive-thru in Medford back in January — a woman who took a photo of the "Batman" and "Good Will Hunting" star, Lisa Mackay, told NBC10 Boston the movie star was quick-witted and funny when they talked.
Mackay said she signed a form for video of her to be used and was told by crew members that they were filming a commercial.
Affleck's new wife, Jennifer Lopez, may have been part of the fun — video and posts on social media showed her at a local Dunkin' with Affleck as well.