Funnel clouds were spotted across Middlesex and Worcester counties in Massachusetts Monday as tornado warnings sent people into shelters.
The National Weather Service said a tornado touched down near the Marlboro Water Treatment Center west of I-495, then traveled through a business park and dissipated nearby. People saw tree branches thrown in the air from the EF0 tornado -- the weakest on the scale, with winds of 65 to 85 mph.
The tornado caused a tree on Cedar Hill Street to fall on two cars, damaging one of them, according to the National Weather Service
People spotted possible tornadoes -- those funnel clouds -- across the area.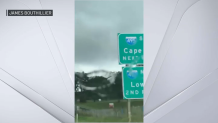 The tornado activity was pulsing up in Massachusetts in the aftermath of what had been Tropical Storm Henri. It was also accompanied by torrential rain in spots.
Tornado warnings are rare in eastern Massachusetts, though others were issued just last week, as the remnants of Tropical Storm Fred passed through.