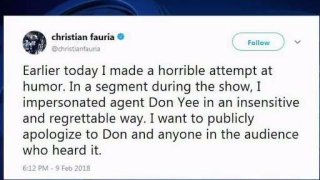 WEEI radio host and former New England Patriot Christian Fauria was suspended Friday by the station for doing an impression that mocked sports agent Don Yee.
During Friday's "Ordway, Merloni, and Fauria", Fauria did an impression of Yee that was in an over-the-top, stereotypical Asian accent.
The hosts were discussing an erroneous story written Friday by Boston Herald columnist Ron Borges. In that story Borges cited text messages he believed were from Yee, who is the agent for both Tom Brady and Jimmy Garoppolo. Those texts turned out to be a prank from a sports radio listener and the story was removed from the Boston Herald website.
Late Friday night, WEEI tweeted that Fauria's comments were an "insensitive and ill-conceived attempt at humor" and that they "do not support or condone Christian's comments and we have suspended him for five days effective immediately."
Last night, Fauria also took to Twitter to apologize for his comments. He wrote "I impersonated agent Don Yee in an insensitive and regrettable way. I want to publicly apologize to Don and anyone in the audience who heard it." He also wrote that he had reached out personally to Yee to apologize.
The New England chapter of the Asian American Journalist Association wrote in a statement Saturday condemning the segment. While they commended WEEI for taking disciplinary action, they "hope management takes further steps to ensure such behavior never happens again."