He's been fishing all his life, but one Massachusetts man is helping reel in something much bigger.
Using his fish finder when the bite is slow, Jim Thames of Wellesley has taken up a new hobby — finding vehicles submerged in the depths of the Charles River.
"I'm like, 'This looks pretty suspicious beneath me,' so I get my underwater camera out and just kind of dip it down underwater — and sure enough, it's this kind of steering wheel, and it's right down there," he explained. "And it's the shape of a car, so it's a car."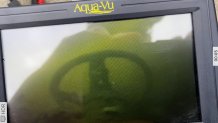 Thames finds submerged vehicles for fun.
"Nature tends to not produce straight lines or square corners, so anytime I see something on the fish finder that has those characteristics, it just naturally raises a red flag as something that needs to be looked at more closely," he said.
The angler said he reported his first find to Massachusetts State Police about six years ago. The next day, the dive team responded.
Local
In-depth news coverage of the Greater Boston Area.
"I just kind of came back over the next morning and saw them drag it out, and it was covered in muck and green slime," he recalled.
About a week and a half ago, Thames said he found his second.
On Monday, he found his third, which happened to be stolen.
"They were able to recover the plate, they entered it into their system and found that it had been reported stolen, sometime before," he said. "I'm guessing that whoever stole it just rolled it into the water and then got rid of whatever they didn't want associated with them."
Almost serendipitously, right before his interview with NBC10 Boston on Wednesday, Thames found his fourth submerged vehicle.
"I just found one an hour ago, so I haven't even reported it in yet," he said, showing our news crew the exact location. "It's kind of turning into a little bit of a side hobby."
With four vehicles under his belt and no plans to slow down, the angler said with or without a bite, he's hooked.
"It is some sort of bizarre enjoyment of uncovering something like that," he said.