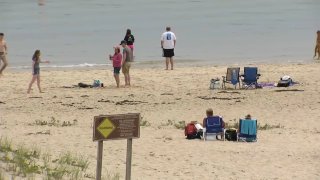 Alcohol will be banned at Cahoon Hollow Beach in Wellfleet, Massachusetts, this summer as town officials try to maintain safety amid an increase in crowds over recent years.
The beach sits below the famous and popular Beachcomber restaurant.
Town leaders say that visitors and traffic at the beach has increased 20% each year for the past six years, and with that they've seen a spike in excessive drinking and disorderly conduct, including assaults and other safety hazards like people passing out in the beach. Officials hope the ban, which was approved by The Cape Cod National Seashore, will prevent tragedies.
The ban starts on May 20 and will last until September 10. The town also has a ban on drinking alcohol at town properties, which is enforceable year-round.