Our nor'easter has stormed in, causing power outages to tens of thousands of residents across New England, threatening more wind and heavy wet snow that may produce additional outages later Tuesday as the wind cranks up.
Snowfall totals so far
Over two feet of snow has been reported in the Berkshires and parts of northern Worcester County, and sizeable snow totals were seen in parts of Vermont and southern New Hampshire as well. Meanwhile, the coastal communities saw mostly rain — amounts exceeded 3 inches in parts of Connecticut and Rhode Island.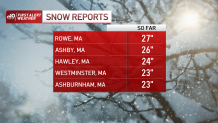 Strong winds, coastal flooding expected
The strong gusts also threaten some minor coastal flooding. Once our low pushes further west Tuesday afternoon, the range of the winds will increase and expand further inland. We'll see wind gusting over 55 mph from southern Maine through southeastern New Hampshire and parts of central Massachusetts.
Haverhill may see up to 60 mph on Tuesday evening, along with strong wind also expanding into Framingham and eastern Worcester County. Higher wind gusts may be upwards of that briefly in eastern New England.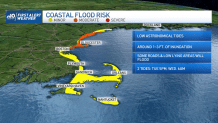 How much snow will Massachusetts get?
Meanwhile, the snowfall rates will range about an inch per hour through the mid afternoon but will slowly maintain rates of over half an inch per hour. Boston, on the other hand, will see snowfall rates around half an inch that will slowly decrease on Tuesday night. Wind and snowfall rates will keep visibility low inside MetroWest and spots near Worcester Tuesday afternoon and evening.
What's next?
This storm system will slowly push Tuesday night. This will limit the snowfall amounts in eastern Massachusetts, while cloudy skies will remain for the first half of our Wednesday. Other than that, temperatures will remain in the lower 40s Wednesday and near 50 degrees by Thursday into Friday.