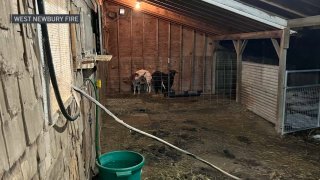 Firefighters were able to stop an outside fire from causing serious damage to a barn with animals inside in West Newbury, Massachusetts, on Sunday night.
The West Newbury Fire Department said its crews quickly responded after they were called to Maple Street around 8:30 p.m. for a report of fire showing from a barn in the rear of the property. Flames were visible upon arrival and crews worked aggressively to get water on the fire, extinguishing it quickly.
The homeowner saw flames coming from their compost bin as they looked out the kitchen window, and firefighters arrived within minutes, stopping the fire in its tracks.​
The fire had not extended into the barn itself, only damaging the wood shingle siding of it, which is fortunate because there were goats inside the barn at the time, fire officials said.
Mild water damage was reported inside the barn, fire officials said, and the charred siding will need to be replaced, but no humans or animals were hurt.
​"The fast response of firefighters and their aggressive work made the difference tonight," Chief Michael Dwyer said.​ "The West Newbury Fire Department is a primarily call department, so firefighters respond to the station from their homes before going to calls. This makes Sunday's response time all the more telling of the dedication and determination of West Newbury's firefighters.​"
The Groveland and Merrimac fire departments provided mutual aid at the scene, while Newburyport, Georgetown and Newbury fire departments covered West Newbury during the fire.
Local
In-depth news coverage of the Greater Boston Area.
​It was determined that the blaze started in a compost bin adjacent to the barn. No other information was released.