Whale, would you look at that? Talk about the thrill of a lifetime for two men from neighboring towns.
A photographer happened to capture the moment Sunday morning when a whale breached above the ocean's surface right off the coast of Massachusetts, not far from an experienced paddleboarder.
In fact, Michael Manfredi was within just 35 feet of the humpback whale at Manomet Point in Plymouth.
"Part of the mouth comes up and then it opens up and you can see all of the fish following it, and fish coming out of its mouth, and then it's about 20-25 feet near and then it splashes down," Manfredi recalled. "Like oh my god, this is awesome."
Freelance photographer Craig Picariello snapped the shot around 8:30 a.m, in which you can see what appear to be small fish also in the deep blue waters off the South Shore.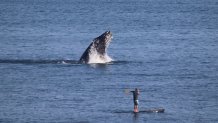 "I didn't realize how well I got the shots until I got home and put them on my computer," Picariello said with pride. "I said to my wife, 'you gotta come see this. I took these photos. These are incredible.'"
Dozens of people on social media shared and reacted to his post featuring the whale breaching the surface, impressed with Picariello's shot.
Manfredi and Picariello say they plan to get together this weekend -- though it's unlikely they'll see a repeat of last weekend's unreal whale encounter.