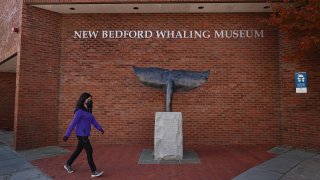 A former employee at the New Bedford Whaling Museum is accused of stealing dozens of its artifacts, the Bristol District Attorney's Office said Friday.
Robert M. Burchell, 42, a New Bedford resident, is charged with larceny from a building. According to the DA, Burchell worked as a facilities associate at the museum. He's accused of stealing dozens of small artifacts that he would then sell at local antique and pawn shops for cash. The investigation began when one of those shop owners reached out to police.
The total value of all the stolen items is estimated to be over $75,000. Most of them have been recovered and returned to the museum.
Burchell was arraigned on the charges on Jan. 6 at New Bedford District Court. Cash bail was set at $5,000 and Burchell was ordered to stay away from the museum and its employees. He is next scheduled in court on Jan. 31.
Local antique dealers and pawn shots are warned to look out for any suspicious activity that could be tied to this case.
The New Bedford Whaling Museum was founded in 1903 and is now focused on telling the history of the whaling industry and how it developed the surrounding port communities. It is also involved in modern day whale preservation work. To learn more about the museum, click here.