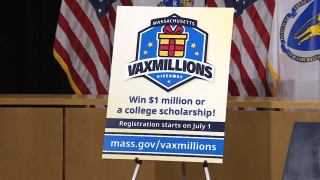 The last winners of the Massachusetts VaxMillions Giveaway, the COVID vaccine lottery that had already doled out more than $5 million, were revealed Thursday.
Cynthia Thirath of Leominster won the $1 million prize for a fully vaccinated adult who registered, while Gretchen Selva of Conway won the $300,000 college scholarship for a vaccinated child.
Thirath plans to invest her winning in her future, officials said in announcing she won. She got vaccinated to protect the people around her and to encourage others to do the same.
Selva, a rising sophomore at Greenfield's Four River Charter Public School, is hoping to study music writing and production in college, and got vaccinated for much the same reasons as Thirath, officials said.
State officials contacted the pair on Monday, and they had to confirm within 24 hours. In fact, one person who'd been selected for a VaxMillions prize missed out on it, officials confirmed Wednesday.
The Baker administration noted Thursday that, from the announcement of the giveaway on June 15 to the last day to sign up, more than 318,000 Massachusetts residents got at least one dose of a COVID vaccine, while more than 440,000 became fully vaccinated.
The state had already given out $4 million to four fully vaccinated people and $1.2 million in college scholarships to four vaccinated kids between 12 and 17 -- the ages for which vaccines are currently approved.
Get the latest news on COVID-19 delivered to you. Click here to sign up for our weekly coronavirus newsletter.
Here is a list of the winners from the first four drawings:
The odds of winning were very low — officials have said that 2.3 million adults and over 166,000 Massachusetts residents between the ages of 12 and 17 signed up for the giveaway.
More VaxMillions Stories