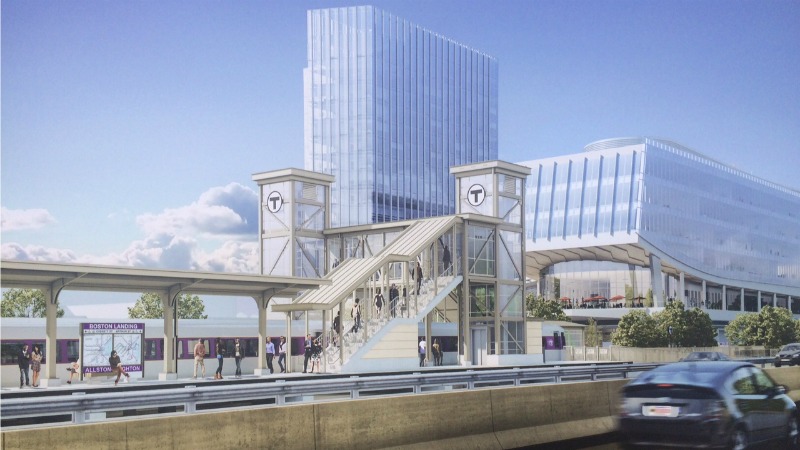 Kendall Square wasn't always the bio-tech mecca that it is today. Like any evolving sub-market, it took time, vision and a collection of the right ingredients to transform a former industrial landscape into the global epicenter for the life sciences.
When one surveys the formative changes of Kendall Square, a few historical events jump out: MIT's purchase of the Lever Brothers site in the early 1960's and its rebirth as Technology Square; NASA's departure for Houston and Biogen's consequential decision to relocate from New York in 1983.
The ability of a university to serve as a catalyst by fostering reinvention when one industry withdraws acts as a blueprint for a sub-market that resides on the other side of the Charles River – a sub-market that's poised for a comparable renaissance to Kendall thanks in large part to a major university shepherding the way.
Local
In-depth news coverage of the Greater Boston Area.
Allston/Brighton is the backdrop of what will become Kendall 2.0 and Harvard University will be the steward of rewriting Allston's history. The university owns roughly 358 acres in the sub-market with plans to develop over 25 million square feet over the next several decades. As a point of reference, Kendall Square presently has roughly 14.7 million square feet of office and lab space combined; and Harvard owns more real estate in the Allston sub-market than it does in Cambridge.
The first significant development that serves as a portal to the submarket's future along the Western Avenue corridor will be the construction of the Science and Engineering Complex (SEC), rendered above. The 500,000 SF world class facility designed by the Boston office of Behnisch Architekten will house two-thirds of the School of Engineering and Applied Sciences (SEAS) and is set to deliver in the fall of 2020.
In close proximity to the SEC sits over 50,000 SF of incubator space in the form of the iLab, Launch Lab and Life Lab all geared towards startups. In addition, Harvard Business School (HBS) is firmly anchored along Western Avenue and is undergoing a campus renovation and expansion.
With the commitment to create a future Enterprise Research Campus where non institutional industries will have the opportunity to locate and collaborate alongside the aforementioned academic elements, Harvard University President Drew Faust succinctly views "the growth of our campus in Allston an extraordinarily exciting opportunity in the Greater Boston region for collaboration, discovery, and innovation."
Harvard will not have to shoulder the responsibility of evolving the sub-market alone.
The private sector is actively developing mixed-use transit-oriented projects with scale along the Mass Pike. New Balance Development's pioneering efforts have validated the Guest Street corridor by attracting high profile tenants to Boston Landing. With the Bruins headquartering their management and practice facilities and the Celtics facility under construction in the 1.5 million square-foot development, Boston Landing is taking the shape of a sport, healthcare and lifestyle destination envisioned by New Balance owner Jim Davis, who recently moved his company into an iconic new headquarters in the middle of Boston Landing.
Ahold Delhaize, the parent company to Stop & Shop, will continue the development alongside Guest Street with their own mixed use project to include over 1.1 million square feet of density. Numerous other developers are adding to the fabric of the sub-market with their own projects presently skewing heavily towards multifamily and retail uses.
Allston's infrastructure and accessibility continue to gain recognition and favor. In the present, the Boston Landing Station will bring commuter rail service via the Framingham/Worcester line when it opens later this month. But this isn't the only significant transportation project that will impact the sub-market.
The realignment of the Mass Pike further east of Boston Landing will result in a streamlined transportation network that will create large development potential north of the Pike. A second transportation hub in the form of West Station is in the plans that promises to bring multimodal transit as well, which in addition to the aforementioned commuter line may bring a bus depot and a bike sharing network.
What has potential to radically change public transit in Allston is the hibernating Indigo Line. Conceived by the Patrick Administration, the T line would boast above ground diesel trains providing direct access to North Station (via E. Cambridge) and South Station (via Back Bay). Given all the conversations about what the future may hold, many have overlooked the already existing Green Line (B Train) that stops in nearby Brookline and is only a ten minute walk away from N. Beacon and Cambridge Streets.
While the near and long term future holds incredible promise for Allston, the present offers a compelling opportunity for the innovation economy that has taken hold of the greater Boston region.
In addition to the aforementioned factors, both in place and pending, Allston affords growing companies and start-ups a lower barrier to entry. New construction notwithstanding, the sub-market is plush with industrial/flex product that is highly sought after due to its general scarcity and the uniqueness that results in character and branding opportunities.
Where similar-type product in the Seaport or Cambridge fetches either a low $50/SF or low $60/SF, respectively, Allston stock trades at a discount today of roughly 50 percent. The number of single-story, industrial buildings ideal for growing companies especially focused in the R&D space will allow for a new clustering opportunity for start-ups.
One such building that fits this profile is the former International Harvester regional headquarters site located at 61 N. Beacon. Built to support the production of heavy construction and agricultural machinery, the four-story brick building is undergoing a full gut renovation and will boast large open floor plans, high ceilings and a vehicular freight elevator conducive to supporting R&D operations.
Underpinning the appeal of Allston/Brighton is a grittiness and authenticity that some other growing sub-markets can't manufacture. Walk along Cambridge Street, Harvard or Brighton Ave. and you will have your pick of lunch spots and after hour venues to keep employees excited about coming to work in Allston.
Lone Star Taco Bar is a quaint and friendly place for lunch and an energy-filled bar at night. If you haven't been to the Stockyard, it is a mandatory visit, offering delicious food within a backdrop that serves as a reminder to the submarket's past as a rail yard and industrial center. Other destinations include LuLu's Allston, The Draft, White Horse Tavern, Article 24 and Brighton Music Hall, with another 100,000 square feet or more of retail space currently in the development pipeline.
Most people see what exists today in Allston/Brighton, namely Boston Landing, and see a transformation occurring. Few people see what we see -- the first steps toward what will become the next Kendall Square. All it takes is time, vision and a few key ingredients.
Mike Jezienicki and Ryan Hurd work with start-ups and growing companies within Boston and Cambridge as corporate real estate consultants with Boston Boston Realty Advisors.
More BostInno Stories:

Copyright Boston - BostInno