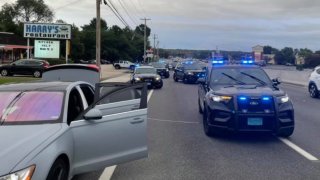 A car windshield was shattered Thursday on the Massachusetts Turnpike in Boston in what state police initially described as a shooting, a classification they later walked back.
A taxi driver in a Toyota Sienna van pulled up beside a Massachusetts State Police trooper on the highway around 6:20 p.m. and reported that someone had shot at their car, spokesperson Dave Procopio said in an email around 7:30 p.m.
State police initially said that driver was a woman, but issued a correction Friday saying the person was a 61-year-old Hyde Park man. Police said there was a passenger in the taxi at the time.
"The Trooper observed a window of the car had been shot out," Procopio wrote in the statement.
According to a preliminary police investigation, the Toyata and an Audi A6 were driving close to each other on the Massachusetts Turnpike westbound, prior to the Allston-Brighton exit around 6:20 p.m. The driver of the Audi has been identified as a 32-year-old Grafton man.
The drivers were engaged in a verbal confrontation involving obscene gestures, police said. At that point, the right-side window of the Toyota was shattered.
The taxi driver described the Audi to police. Shortly later, Westborough Police Officers stopped the Audi on Route 9 near Harry's Restaurant.
Local
In-depth news coverage of the Greater Boston Area.
Earlier, state police had identified that "suspect" had been taken into custody by police in Westborough near Harry's Restaurant. They did not immediately identify the man and said he had not been arrested, but was being detained as police investigated.
At 9:30 p.m., Procopio said police could not confirm a shooting had taken place, and that no gun was found on the man or in his vehicle.
On Friday, Procopio said the Grafton man was cooperative while being detained and questioned and said he was licensed to carry a firearm but that no gun was found in the vehicle.
The incident remains under investigation, Procopio said.