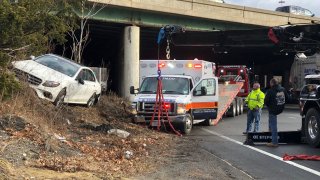 An ambulance was involved in a crash on I-95 south in Reading, Massachusetts, Wednesday, authorities said, resulting in multiple injuries.
Three vehicles were involved in the crash, which took place about 12:30 p.m. near exit 37, Massachusetts State Police said.
The ambulance was carrying a patient, who was transferred to another ambulance after the crash. At least one other person was also taken to a hospital.
It wasn't immediately clear what caused the crash.
Images from the scene showed an ambulance being winched onto a tow truck and a Mercedes sedan nearby on a highway embankment. Both vehicles showed some damage.
CORRECTION: An earlier version of this story misidentified where the crash took place. It was in Reading, not Woburn.