Police are hoping the public can help them find whoever struck and seriously injured a young woman before taking off late Saturday night in Medford, Massachusetts.
Medford police say the 22-year-old victim was getting out of a rideshare vehicle at a home on Harvard Street with her boyfriend around 11:30 p.m. when a passing car hit her. The woman suffered serious injuries and she was taken to Massachusetts General Hospital where she remains in serious condition.
The woman has not been identified by police, but family members told NBC10 Boston Sunday that her name is Brooke Rosselle.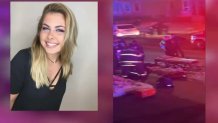 Witnesses who heard the crash and saw the aftermath described a chaotic scene.
"I was sleeping and then I heard a really big bang and then someone scream and then a car like peel off," said Nakita Sconsoni. "I looked out my front window and saw a man holding somebody in his arms, screaming to call 911, so I immediately called 911."
"I was up in bed, I heard a thud, a screech of a tire, and then I saw a lady on the sidewalk on the snowbank," said Larry Keating.
Local
In-depth news coverage of the Greater Boston Area.
Keating says what happened next was startling.
"Someone got of their car, looked over real quick, got back in the car, and screeched off," he revealed.
Investigators confirm the driver, who was wearing red or tan pants, did get out of his car at the scene and look at the injured woman before fleeing in the direction of Main Street, possibly turning right onto that street. He is described as having very short cut, tightly cropped dark hair.
The suspect may have been driving a beige-colored Toyota, according to witness accounts. Police say it could have been an older Toyota Corolla or Camry style car. Witnesses said the back of the car had a box shape to it -- this could also be another make of a car that looks like the Toyota.
Witnesses say the woman's boyfriend was frantic Saturday night, yelling about the car that struck his girlfriend.
"He just kept screaming about a Toyota Corolla, a gray Toyota, it was going that way, and to try to get their license plate," said Sconsoni. ""It did not look good, and it was very scary and alarming."
Investigators say the driver who was involved may have been rear-ended by a silver or gray 2003 Honda Civic or Accord type vehicle at the scene, but it's unclear if that happened before or after the woman was hit.
Police said the Honda is missing a grill that was recovered on scene, as well as some other parts.
Both cars would have suffered substantial damage, and police are looking to speak with both drivers.
Investigators said they are sharing what information they have collected from witnesses so far, hoping someone will be able to help them locate the hit-and-run suspect. Police do not currently have any video or photos to share, however.
The Medford Police Department said it would appreciate any help the public could provide. Anyone with information about the crash, the vehicles and/or the person or persons involved is asked to please call 781-395-1212. Or people can contact Sgt. Carl Brooks of the crash investigation team at cbrooks@medfordpolice.com.
Medford police can also be contacted anonymously via Tipp 411.
This is an active and ongoing investigation.