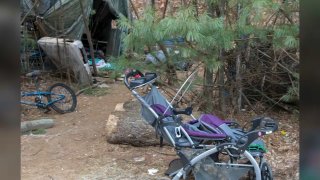 A New Hampshire grand jury indicted a woman on multiple charges after she allegedly abandoned her newborn baby in the woods of Manchester.
Alexandra Eckersley, the daughter of Baseball Hall of Fame pitcher and longtime Red Sox announcer Dennis Eckersley, is accused of lying to authorities before the premature baby was found moving but struggling to breathe in a tent at a homeless encampment in the early morning hours on the day after Christmas.
In a document filed with Hillsborough Superior Court, the Hillsborough County Attorney's Office said Eckersley had been indicted on two felony counts of second-degree assault, a felony charge of falsifying physical evidence and an extended-term misdemeanor of reckless conduct. While she is also facing a misdemeanor charge of endangering the welfare of a child, prosecutors did not present that charge to the grand jury.
According to authorities, Eckersley called 911 around 12:30 a.m. on Dec. 26 to say she had given birth in the woods near the West Side Ice Arena, and then led officers in the wrong direction, investigators said, because she and her boyfriend didn't want to give the location of the tent, in an encampment for the unhoused, where she was living. Asked why she hadn't taken the baby with her, she said, "What do they tell when a plane goes down? Save yourself first," according to an affidavit filed in court.
Authorities say Eckersley later admitted to misleading rescuers about the child's location.
The temperature was about 18 degrees at the time. The baby was found suffering from hypothermia. Rescuers performed CPR and transported him to the hospital.
Eckersley was previously being held on $3,000 bail, but has since reportedly been released. Conditions of her release include that she have no direct or indirect contact with the baby, anyone under age 18, and she live in either a sober living facility, with a parent or at a residence approved by the state or court.
Authorities announced last week that 45-year-old George Theberge had also been arrested in connection with the case.
A representative with the A representative with the Manchester Police Department told NBC10 Boston late last month that the baby boy was "doing well." There has been no update on the child's condition since then.
Eckersley's family released a statement last month saying that they "had no prior knowledge of Allie's pregnancy."
"It is heartbreaking that a child was born under such unthinkable conditions and in such tragic circumstances," the family said. "We learned with everyone else from news reports what happened and are still in complete shock."
The family went on to thank the first responders who rescued the baby and the medical workers helping to ensure his safety, adding that a guardianship petition is being filed "so that we may receive information and have decision making with respect to Allie's son."
The family also explained that Eckersley has suffered from mental illnesses all her life, and that since she has become an adult, her parents had less recourse to help. The statement also referred to the "broken" mental health care system in New Hampshire and elsewhere.
"We hope Allie now accepts the treatment she desperately needs for her mental health issues," the statement read. "We also hope that all those who have heard this tragic story withhold judgment about our daughter until all the facts come out."