A man who allegedly assaulted a woman at the MBTA's Alewife Station in Cambridge, Massachusetts, on Monday morning remains on the loose, police said.
Cambridge police said they responded to a report of a 67-year-old woman who was assaulted by a man in the area of the Alewife Station on the Red Line shortly after 8:30 a.m.
The woman sustained head injuries but is expected to survive.
The man is described as being in his late 40s or early 50s, a police spokesman said.
MBTA Transit Police released surveillance photos of a man being considered a person of interest in the incident.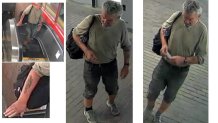 Riders of the MBTA were left unsettled by the attack.
"I'll definitely reconsider coming here, it's just like — it's frightening," said Naomi Carr, who witnessed the assault. "He took his hand and grabbed her by the neck and shoved her to the ground. She hit her head, seemed pretty hard, she seemed really confused, she was having trouble getting up."
Cambridge police said they investigated the station and the length of a nearby bike path but were unable to locate the attacker.
Anyone with information is asked to call transit police at 617-222-1050 or send an anonymous text to 873873.