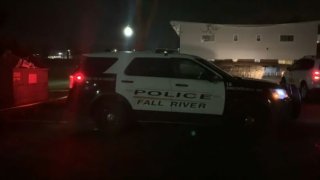 A woman suspected of cleaning up a deadly 2020 stabbing in Fall River, Massachusetts, and helping the attacker get away has been arrested, prosecutors said Thursday.
Jessica Brophy was indicted by a Bristol County grand jury last month on a charge of accessory after the fact in the deadly stabbing of Jorge Vieira outside a housing complex on the morning of Jan. 11, the county's district attorney announced. She was also wanted for allegedly violating probation.
Brophy is suspected of getting rid of the stabbing weapon, cleaning up, hiding clothes bloodied in the attack and helping the since-convicted killer, Nathan Silva, get away, according to prosecutors. He was later arrested at a Motel 6 in Seekonk.
Vieira died after being rushed to a local hospital, then Rhode Island Hospital.
Brophy was arrested Wednesday and appeared in court for both the grand jury's indictment and the alleged probation violations; a Fall River District Court judge ordered her held without bail ahead of a March 21 hearing.
It wasn't immediately clear if she had an attorney who could speak to the charges.