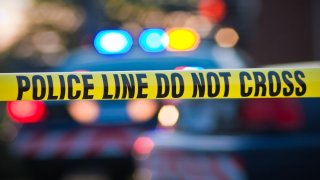 A woman was found dead in her Wareham, Massachusetts, home on Friday and a man found with minor injuries in a canoe was arrested on a murder charge, prosecutors said.
Danny Sherman was arrested hours several hours later, charged with fatally stabbing the woman, the Plymouth County District Attorney's Office said. Sherman, 54, lived with the 57-year- woman, who has not yet been identified.
Wareham police were first called to a waterway near Marion Road about 8 a.m. Friday, where a man, later identified as Sherman, was said to be in distress in canoe. Prosecutors said he was taken to Tobey Hospital to be treated for minor injuries.
Police than learned of a death at a home on Woodbridge Avenue, prosecutors said. When they arrived at the home, which is under a mile away, they found the woman bleeding and unresponsive. She was determined to have died at the scene.
Sherman was arrested about 1 p.m. Friday by state and local police. He's scheduled to be arraigned at Wareham District Court Monday on a murder charge.
It wasn't immediately clear if Sherman had an attorney who could speak to the charges.