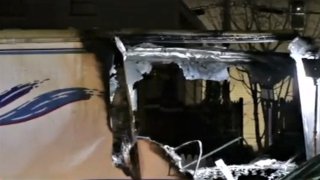 A woman was found dead inside a camper that caught fire Sunday night in Manchester, New Hampshire.
Someone called 911 to report a recreational camper fire in front of 45 High Street around 10:21 p.m. Sunday. The Manchester Fire Department put out the fire and then found the adult woman dead inside the camper.
An autopsy was conducted Monday and the victim was identified as 34-year-old Chandel Vanenburg, who was believed to be unhoused at the time of her death, officials said.
Vanenburg's cause of death was determined to be smoke inhalation. According to officials, the manner of death is pending further investigation.
The New Hampshire State Fire Marshal's Office, the Manchester Police and Fire Departments are investigating.