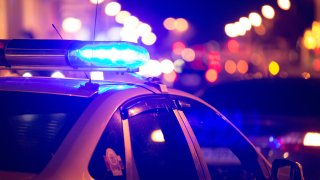 A woman died after being ejected from her car and then getting hit by another vehicle on Interstate 93 in Wilmington Tuesday night, according to Massachusetts State Police.
Kristina Lee, 43 of Tewksbury, lost control of her 2002 Ford Escape Tuesday night and was struck by a 24-year-old Methuen man driving a 2004 Honda CRV as she lay on the roadway. The man remained on scene.
Lee's Ford Escape was found further down the road fully engulfed in flames, according to police. The fire was extinguished by the Wilmington Fire Department and towed.
Police believe Lee left the travel lane and hit the guardrail, then was redirected back onto the roadway, according to preliminary evidence. Her car continued northbound after she was ejected before it eventually veered off to the right and stopped along the woodline.
State police and specialty units are still investigating the fatal crash, which happened around 10:30 p.m. on I-93 north between exits 38 and 39.
The left lane at the crash site has been reopened at this time; other lanes remain closed to facilitate the ongoing crash reconstruction.