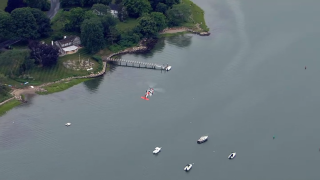 Authorities searched Hingham Harbor in Massachusetts for a report of a missing swimmer Thursday evening, only for the woman who'd prompted the report to call in saying she was safe, police said.
They were never sure if the had in fact woman gone missing -- witnesses said they hadn't seen the woman they watched go into the water come out, but they also didn't keep close watch on her, according to Hingham police.
The harbormaster and a Coast Guard helicopter checked the area.
Police later noted that it was entirely possible that the swimmer, who was headed toward Button Island, had gotten out of the water on their own. If so, they asked the woman, described as white and in her 50s with blonde hair and mid-thigh-length shorts, to call them at 781-749-1212.
That's what ended up happening. The swimmer called in to say she'd gotten out of the water, and police noted that the witnesses had reported her missing did so in good faith.
The search came during a spike in drownings in Massachusetts. Up the shore, authorities were searching for a swimmer who'd gone missing in South Boston. The 19-year-old's body was later found.