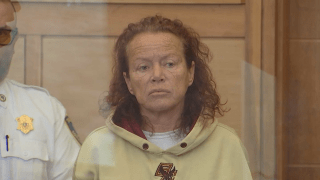 A Massachusetts woman pleaded not guilty Thursday after being charged with murdering her boyfriend, who was found to have died of antifreeze poisoning last year.
Judy Church was ordered held without bail at a hearing in Essex County Superior Court, where she appeared via video from South Bay House of Correction in Boston.
Authorities have alleged that the 64-year-old from Salisbury poisoned her boyfriend, Leroy Fowler, with ethylene glycol, which is often found in antifreeze, ink, deicing fluid and hydraulic brake fluid.
Church called police requesting an ambulance just after 8 p.m. on Nov. 11, according to the Essex District Attorney's Office. Emergency crews found Fowler, 46, in medical distress. He was taken to three different hospitals for care and pronounced dead on Nov. 13.
An autopsy determined that Fowler died of ethylene glycol poisoning, prosecutors have said.
According to court documents, Church told the 911 dispatcher that her boyfriend "must have ingested something" and he could not stand, "was pulling the bedroom apart, and had a bloody nose. She also reported Fowler "had hit everything in the apartment."
First responders found Fowler displaying signs of an altered mental status and he was initially taken to Anna Jacques Hospital in Newburyport. He was transferred to Mount Auburn Hospital in Cambridge when his medical condition began declining, officials said.
According to court documents, hospital staff informed Fowler's family that his kidneys were damaged and, based on his symptoms, they believed he could have ingested poison -- specifically antifreeze. Fowler's family then contacted the Salisbury Police Department, telling a detective they thought this was suspicious and needed to be investigated further. Meanwhile, Fowler's health condition declined rapidly and he was in critical condition.
Officers reviewed police body camera footage as part of their initial investigation and found the Central Avenue residence was cluttered, with numerous bottles that appeared to be cleaning materials on the counters and floor in the kitchen. Detectives couldn't read any of the labels on the bottles due to "quick movements of the camera," the court documents stated.
According to a probable cause statement, detectives also spoke with one of Fowler's doctors at Mount Auburn Hospital who stated he believed this was poisoning with antifreeze. Detectives said they learned antifreeze can be ingested without someone's knowledge due to its sweet flavor, and a small dose can be fatal.
Detectives then went back to the Central Avenue home in Salisbury to interview Church. She wasn't home when they arrived, but she drove up while detectives were standing outside. When one of the detectives introduced himself, court documents show she asked, "What is this about?"
She agreed to talk about Fowler, getting out of a Jeep with two pizza boxes and a bag. She went over to a first-floor apartment, telling detectives that her son lived below her and she wanted to give him the food. When she opened the door to her son's apartment, court documents show she stated, "The state police are here. This keeps getting better and better!"
Detectives asked Church if they could go inside her apartment to talk about Fowler but she said no, court documents show, stating her house was dirty and that the detectives had arrived unannounced so she didn't want them inside.
Church was interviewed on the sidewalk out front, during which time her 26-year-old son, Douglas Church, walked outside and began participating in the interview. Church told detectives she had just come back from the hospital where she was attempting to be Fowler's health care proxy, but the hospital would not allow it due to "no official paperwork," according to court documents.
When going over what happened the day before, Church told detectives that Fowler woke up around 4:30 a.m. and all appeared normal. He was doing some work around the house and appeared tired, or winded, at times, she said, adding that he would lean up against the wall and take a moment to collect himself. Church reported Fowler had not had anything to eat or drink that morning, and she had no knowledge of any suicidal thoughts. She told detectives he had used cocaine and Percocet in the past but she was not aware of any current narcotic use. She also told detectives they had bought a property in Florida and were planning to move there soon.
As the interview was about to end, Church's son told detectives they believed Fowler could have been a victim of carbon monoxide poisoning from work he was doing in the basement. They said it was a confined area with the house's heating and hot water appliances, and he was moving boxes in and out of the space, which connected to the son's apartment and also had an outside access door. Neither Church nor her son said they felt ill from any possible carbon monoxide poisoning, court documents stated.
Detectives next met with Fowler's family at their residence where his son, also named Leroy Fowler, said his dad had been dating Church and living at her place for years, however he also had a second girlfriend and was known to "go back and forth between these two women," court documents revealed.
Fowler's son told detectives that his father had a pacemaker and frequently went to Anna Jacques Hospital, something Church would notify Fowler's family of almost immediately in the past. However, when he needed an ambulance the day prior, Church waited approximately 12 hours to tell Fowler's family.
Fowler's son also told detectives about a life insurance policy that had been taken out in Fowler's name by Church about a year ago, though he was unable to provide detectives with the policy.
Michael Hawkins, who told detectives he is Fowler's stepson, said he was driving with Fowler two weeks ago when out of the blue he said he thought Church was poisoning him. He told his stepson that every time he left Church's residence, "he felt better," the court documents revealed. The stepson also said Fowler didn't cook for himself and Church prepared all of the food. He didn't drink alcohol and was known to like red Powerade, Pepsi and a coffee shake that Church made for him frequently. Fowler allegedly told his stepson that he thought Church was poisoning his coffee milkshake.
Court documents show the stepson also said that he heard Church say she "wanted to murder" Fowler's other girlfriend, and he told detectives that she had offered him $10,000 to "kidnap" Fowler from the woman's house, "tie him up and bring him back to her."
Fowler's sister, Tammy Carbone, expressed similar concerns to Hawkins, telling detectives that Church told her on a phone call that Fowler thought she was poisoning him with the coffee shakes she made for him, but Carbone thought it was a joke and brushed it off at the time, according to court documents.