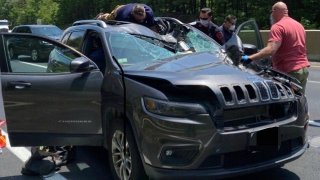 A woman was killed after a tire believed to have broken loose from a passing vehicle struck the windshield of her SUV Wednesday afternoon on Route 2 in Fitchburg, Massachusetts.
Police originally believed the tire was from a passing tractor trailer but later revised their description of the vehicle. Now investigators are seeking to determine what vehicle the tire and rim came from.
Fire officials said the tire struck the windshield of an SUV that was traveling westbound, badly injuring the driver, a woman in her 40s. She was transported to Leominster Hospital with serious head injuries and later taken by helicopter to UMass Memorial Medical Center in Worcester, where she died from her injuries.
Authorities have not released the name of the woman, but said she was from Templeton.
Anyone with information is asked to call the Leominster State Police Barracks at (978) 537-2188.