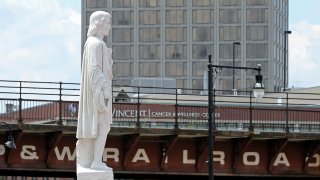 A statue of Christopher Columbus in the second largest city in Massachusetts was splashed with red paint overnight, the second time it has been vandalized in 16 months.
The Telegram & Gazette reports that a public works crew was on the scene Wednesday cleaning the paint off the 8-foot statue.
The statue was doused with red paint and defaced with the word "genocide" in June 2020.
Statues of the Italian explorer across the nation were vandalized last year amid nationwide racial injustice protests.
More Columbus Day/Indigenous Peoples Day News
Copyright AP - Associated Press