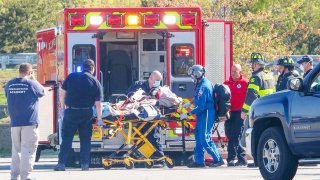 A worker fell 30 feet to the ground from the roof of an under-construction Amazon facility straddling the town lines of Kingston and Plymouth, Massachusetts, according to local officials.
The worker suffered serious injuries and was flown by medical helicopter to a Boston hospital, according to Kingston Fire & Emergency Management.
The Amazon facility is located on William C. Gould Way, and both Kingston and Plymouth firefighters reported to the scene.
No further information was immediately available.