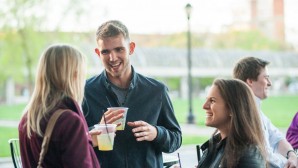 Get ready for our new and improved State of Innovation! Instead of a full day conference, we have designed a three-day WorkXPlay Series from June 20th–June 22nd, featuring a Mixer, Smarter Workplaces, and Scaling Up. Our third event of the series is on June 22nd presented by Newmark Grubb Knight Frank. They'll be hosting us for a conversation on Scaling Up. Our discussion will focus on how companies can navigate and manage stages of growth in order to scale up. Learn from experienced panelists as they dive into the challenges they've faced and overcome. Don't worry, we'll have plenty of time for brews, snacks, networking opportunities and sharing ideas with local influencers. Check out the panel here and grab your ticket for $15.
Nilanjana Bhowmik, Founder and General Partner of Converge: Nilanjana has 23 years of experience as a venture capitalist, investment banker and operating executive. Prior to founding Converge, Nilanjana was a General Partner at Longworth Venture Partners where she led the firm's investments in enterprise tech. In addition to her current board responsibilities, prior investments and portfolio involvements at Longworth include Viewfinity (acquired by CyberArk), VKernel (acquired by Quest), Softricity (acquired by Microsoft) and Thor Technologies (acquired by Oracle). Previously Nilanjana also held several positions at Object Design Inc., the leading object-oriented database and INC 500, #1 private Company in 1994. There she ran the professional services organization for the Americas, and delivered one-third of the company's annual revenues.
Larry Begley, Chief Financial Officer of CloudHealth Technologies: As Chief Financial Officer, Larry leads the scaling of CloudHealth Technologies' finance, human resource and administrative infrastructure, as the company rapidly grows and expands geographically. Larry is a seasoned operating executive, venture capitalist, and private and public company board member. He has spent over 35 years building successful companies, investing in them, driving successful strategic and IPO exits and serving on their boards of directors. Begley joined CloudHealth Technologies from .406 Ventures, an early-stage venture capital firm that he co-founded.
Jennifer Lum Co-Founder and Chief Operating Officer of Forge.AI: Currently Jennifer is the Co-Founder COO of Forge.AI, a data company that creates fuel for intelligent machines. Previously, Lum was the Chief Strategy Officer and Cofounder of Adelphic, a leading mobile advertising platform. Prior to Adelphic, Jennifer played significant roles at Apple, Quattro Wireless and m­Qube, working with Fortune 500 brands and building industry­leading mobile marketing and advertising platforms. Jennifer has been recognized in Business Insider's "Most Powerful Women in Mobile Advertising," Inc.com's "Women to Watch" and Boston Business Journal's "Top 40 Under 40. Jennifer advises startups at MIT, TechStars and 500 Startups.
William Sorenson, Chief Financial Officer of EnerNOC: Currently William is the CFO of EnerNOC, one of the largest commercial property firms in the USA. He has diverse experiences ranging from startups to large established companies. Previously, Sorenson has held CFO and COO roles at Acquia, Qlik Technologies Inc., Firebrand TV, and SavaJe Technologies. Grab your tickets to this can't miss event below for $15. Want to join us for the whole series?! Grab a $40 ticket and get access to all three programs from June 20-June 22.
Thank you to our Sponsors!
Interested in aligning your brand with our events? Email us at sales@americaninno.com
More BostInno Stories:

Copyright Boston - BostInno