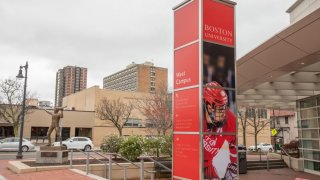 The Writers Guild of America plans to picket a high level media executive at Boston University's upcoming commencement, amid an ongoing nationwide writers' strike, the organization said in a statement to NBC10 Boston.
Warner Bros. Discovery CEO David Zaslav is slated to speak at BU's commencement on May 21 at Nickerson Field. The university has faced recent criticism for hosting Zaslav because of the ongoing uncertainty and strike in the television business over things like pay and artificial intelligence.
"Right now, 11,500 WGA members across the country are on strike because Companies—including Warner Bros. Discovery—refuse to negotiate a fair contract that addresses writers' reasonable demands around pay, residuals, and the existential threat that AI poses to workers," the statement from Writers Guild of America, East said. "It is shameful that, in the midst of an action to preserve the future of work, Boston University would use a graduation ceremony to honor someone who is intent on destroying students' prospects for building sustainable careers."
The picketing will be done "with the support of Boston University students, New England-based WGA members, as well as other regional unions and community groups," the statement also said.
Several students and alumni spoke to NBC10 Boston earlier this week, critical of plans to have Zaslav speak.
"To tell the graduating class basically, which is a lot of communication students, that this is someone they should look up to is dangerous and I think disrespectful to the students," said BU student Ruby Hawes.
Boston University would not comment on the matter earlier in the week when contacted by NBC10 Boston. Zaslav, meanwhile, addressed the writers' strike last Friday on CNBC while discussing profits of Warner Media's streaming service.
"I think it's the love for the business and the love for working," he said. "That's what's going to bring us together."
Zaslav is also expected to receive an honorary degree at commencement day.