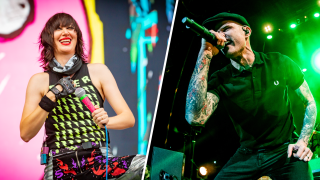 The Yeah Yeah Yeahs have dropped out of this weekend's Boston Calling lineup due to an illness within the band, and Boston's own Dropkick Murphys will be taking their place.
Dropkick Murphys will perform at 5:55 p.m. on Friday, May 26, and The National will now perform at 7:05 p.m., just before Friday's headliners the Foo Fighters take the stage to close out the first night of the festival.
Boston Calling is scheduled for Memorial Day Weekend, May 26-28, at the Harvard Athletic Complex in Boston's Allston neighborhood.
Saturday's headliners are The Lumineers and Alanis Morrissette, and Sunday's headliners are Paramore and Queens of the Stoneage. Other well known artists include Maren Morris, Niall Horan, The Flaming Lips and Bleachers.
A limited number of tickets are still available at www.bostoncalling.com.
For more on the food offerings at Boston Calling, click here.
Boston Calling returned in 2022 for the first time since 2019 because of the COVID-19 pandemic.
Metallica, The Strokes and Foo Fighters were initially announced as last year's headliners, before the Foo Fighters had to drop out. Nine Inch Nails replaced the Foo Fighters and wound up playing two headlining sets when The Strokes had to bow out late in the process due to a COVID case.
Rage Against the Machine was also scheduled to play Boston Calling in 2022 but dropped out before the full lineup was revealed.