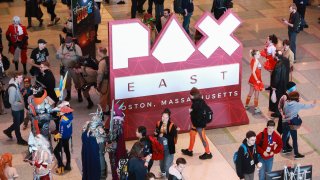 PAX East, the annual celebration of gaming and gaming culture featuring panels, game demos and tournaments, is being held this weekend in Boston. The expo, one of the largest in the world, is also a chance for attendees to show off elaborate cosplay.
Here's your comprehensive guide to the big four-day event:
PAX East location
Pax East is being held at the Boston Convention and Exhibition Center, located at 415 Summer St. in the Seaport District.
Expo hall and tabletop gaming maps can be found here.
Below is a map of the convention center:
PAX East hours. When does it open?
Opening day is Thursday, March 23, and PAX East runs through Sunday, March 26. Some limited badges remain.
Show hours are as follows:
Thursday, March 23: 10 a.m. to midnight
Friday, March 24: 10 a.m. to midnight
Saturday, March 25: 10 a.m. to midnight
Sunday, March 26: 10 a.m. to 6 p.m.
Expo Hall hours:
10 a.m. to 6 p.m. each day
PAX East schedule
The four-day schedule is packed with hundreds of events, including theater panels, performances, tournaments, gaming sessions, concerts, digital streaming panels and more. You can see a list of all the events here, and you can filter by day or type of event.
You can also see some of the various categories of events, as well as a list of all of the exhibitors, here.
You'll find a full list of some of the famous creators, streamers, bands and others who will be at this year's event here.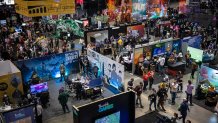 PAX East parking and traffic impacts
According to the Massachusetts Convention Center Authority, traffic in downtown Boston and the South Boston waterfront are expected to be impacted by PAX East.
Traffic in the area is expected to be heaviest between 8 a.m. and 5 p.m., Thursday through Sunday.
The MBTA has scheduled a shutdown of the Red Line from Harvard to JFK/UMass on Saturday, March 25, and Sunday, March 26, which will result in a large contingent of shuttle buses.
Attendees, as well as local employees working in and around the South Boston waterfront, are encouraged to allow additional time for their commute as travel across all modes of transportation is expected to be heavy for this event.
Parking in the South Lot of the BCEC is expected to fill quickly for this event. Additional parking will be offered at off-site lots in the South Boston waterfront area. Signs will direct attendees to off-site parking. Police details will be in place to help direct traffic and pedestrians.
You can also find more information, including directions, public transit information and hotel registration, here.
PAX East bag policy
Bags are allowed at PAX East, but there is a security check when going in. There is typically a line for those with and without bags, so having a bag with you can delay your entry.
Here's a full rundown of security policies for the event, along with other safety and accessiblity guidance.
PAX East health and safety requirements
PAX East is requiring approved face coverings for all participants at the event, with the exception of any children under age 2.
Verification of vaccination or proof of negative test are not required for admission.
Attendees should not enter the convention center if they are experiencing any COVID-19 symptoms or have been in contact with someone with confirmed or suspected symptoms.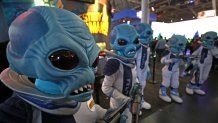 PAX East merchandise
Here's a look at some of the merchandise that will be available at PAX East, including jackets, T-shirts, hats, water bottles and more.
You can also purchase select items at store.paxsite.com right now.
PAX East food
Of course there will be food inside the venue, which includes multiple food courts and a beer lounge. But what about when you venture outside the convention center?
Boston native Dan Cravate shared an awesome Twitter thread with suggestions for places to eat besides McDonald's.
Among his suggestions were Bar Taco, The Smoke Shop BBQ, Tony C's, City Tap House, Morton's Steakhouse, Trillium Brewing and Yume Wo Katare. He also had some recommendations in nearby Allston and Chinatown.
Check out the full thread below: