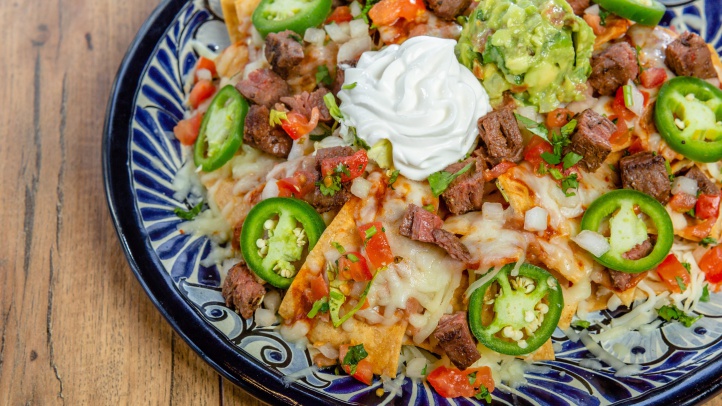 Surprising to no one, the New England Patriots are Super Bowl-bound, which means, unless you have a golden ticket to Atlanta, it's time to decide where to watch the game. Whether you're looking for a massive screen or the best drink deals in town, we've rounded up which Southie spots you should head to on Sunday.
Capo
Capo is now football central on game day! With the additional of two projector screens to the front dining room as well as two televisions over the back bar, the restaurant now has a total of 3 projector screens and 4 televisions, The front "Tavern Room" will be more football focused perfect for sharing pizza and meatballs while you watch the Pats, leaving the back room to be a more traditional dining room experience where you can still keep an eye on the game.
Stats Bar & Grille
With a whopping 24 TVs and built-in Sunday funday crowd of twenty-something (and often rowdy) regulars, owners expect a full house come Sunday. (Translation: Secure a seat by brunch, or expect to wait in a line.)
Local
In-depth news coverage of the Greater Boston Area.
Lincoln
Six TVs, three projectors, and a DJ during commercial breaks ensures this West Broadway hotspot will be hopping come Sunday. Don't forget to order the goat cheese dip at Lincoln – because Brady is the GOAT – duh!
The Playwright
This new and improved hot spot on East Broadway is a great place to watch the game. Featuring plenty of flatscreen TV, appetizers like spinach & artichoke dip, rattlers, wings & fingers and more! There's also plenty of beer on tap and brunch is served on Saturdays and Sundays!
Coppersmith
Gather up the gang and head out to watch at Coppersmith! This place is perfect for large groups with two 12ft projection screens. Coppersmith Executive Chef, Jason Heard will be offering some super sized specials perfect for watching the game including the return of their signature radio flyer wagons with a special football field sized pulled pork nacho platter ideal for groups of 8-10 people. There will also be the "Title Town Tent" sponsored by Carlsberg Brewery. Tailgate on the patio featuring outdoor flat screen TV's, a satellite bar serving Carlsberg and Bud Light brews and enjoy a special a la carte Tailgate menu with football-watching favorites. Plus DJ Frixx will be playing from 1PM-6PM in our heated tent. Opening at 11AM with VIP availability throughout the day, space is limited.
Tailgate Menu includes R I Style Calamari- Lemon Caper Aioli, Jumbo Nachos, Wings, Choice of Boneless or Bone-in, Brunch/Buffalo/BBQ/Spicy Scotch Bonnett
Seapoint Bar & Grille
A neighborhood staple since 1979, this old-school bar will be serving up their renowned steak tips in front of a comfortable amount of flat screen TVs airing the game. Maybe a game of pool come halftime!
The Broadway
The Broadway is a perfect spot to watch the game. This spacious restaurant offers plenty of beer on tap, signature cocktails, punch bowls to share, plus a menu filled with shareable appetizers like spicy wings, whipped feta, meatballs, tater skins and more! The Broadway also serves up hot and delicious wood fire pizza too! There are plenty of wide-screen TV's to watch the game to make sure you don't miss a play. The Broadway is located at 726 West Broadway.
Roza Lyons
Three large TVs, a slew of sharable plates, and inventive craft cocktails make this tiny gem the coziest place to take in the game on what's sure to be a freezing-cold Sunday. Check out Roza Lyons!
Shenannigans
This new and improved hot spot on West Broadway is a great place to watch the game. Featuring plenty of flatscreen TV, appetizers like nachos, wings, and onion rings perfect for sharing! Shenannigans also has a burger, flatbread pizza, and a steak and cheese sandwich for those with a bigger appetite. Order up a classic cosmo, a screwball martini and a harvest mule made with vodka, fresh lime and gingerbeer – are just a few of their featured cocktails! There's also plenty of beer on tap and bubbly for all!
The Lodge at Publico
The Lodge has a cozy apres ski vibe and plenty of screens projecting the game! Get cozy by the fire, order up some lodge apps, and when the Pats score, you can celebrate with a shot-ski!
The Junction
Nine TVs, Paddy behind the bar, and a menu of classic, low-priced bar fare will surely be the main attractions at this watering hole come Sunday.
The post Your Guide to Super Bowl Sunday in Southie appeared first on Caught In Southie.