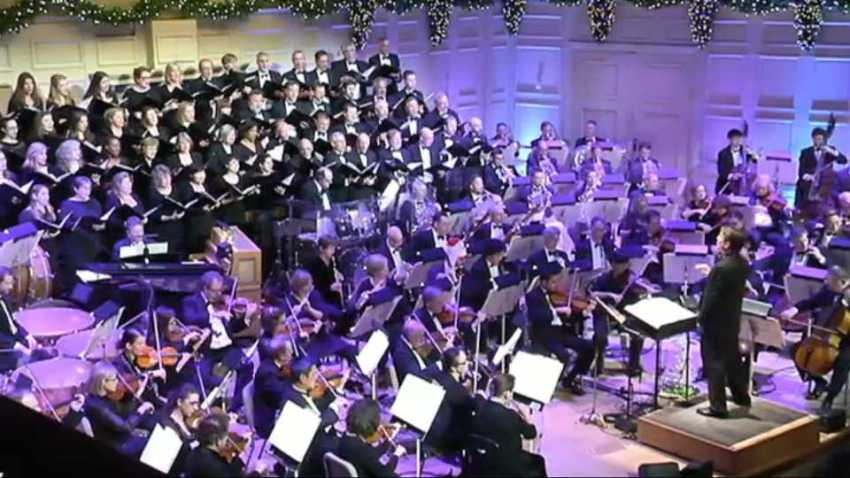 It's no surprise that Boston, one of the oldest cities in the country that has a long tradition of piety and religious ceremony, goes all out for the holiday season. Whatever your creed or lack thereof, there are a handful of must-do events around the city each December and beyond. From the city-lights, cultural performances, and one mad dash up Boylston Street in Santa hats and speedos, there's still a hell of a lot to do before we finally bid 2016 adieu. Read on for the events you should see this winter whether you're new to the city or not.
Frog Pond Skating Spectacular and Tree Lighting – Dec. 1 – Boston Common – This beloved Boston rite-of-the-season features a professional figure skating performance atop the frog pond on the Boston Common. Then, Mayor Marty Walsh will helm the famous tree lighting ceremony nearby.
Mayor's Holiday Special — November & December — Mayor Walsh and Arts Boston have teamed up to bring the city two full months of holiday events that celebrate local artists and performers. Participants can purchase tickets to more than 500 performances (some at a discount), like the Moscow Ballet's Great Russian Nutcracker, Langston Hughes' Black Nativity, the Urban Nutcracker, and A Charlie Brown Christmas presented by the Boston Children's Theatre.
Here are stops that are half-off.
Local
In-depth news coverage of the Greater Boston Area.
Boston Pops' Holiday Pops
Langston Hughes' Black Nativity
The Christmas Revels
Shear Madness
The Blue Man Group
New Repertory Theatre's Fiddler on the Roof
Josè Mateo Ballet Theatre's The Nutcracker
First Night Boston – Dec. 31 & Jan. 1 – This year's First Night celebration will forgo the traditional midnight fireworks show on the waterfront for a 7 p.m. show on the Boston Common. Check out the complete list of festivities – including beginners tango lessons, a Frog Pond Skating Spectacular, and fireworks over the Boston Common at 7 p.m. – at the link.
Slutcracker – Dec. 31 & Jan. 1 – See burlesque performers recreate this quintessential holiday classic with a twist.
Ice skating on City Hall Plaza – Opens Friday, Dec. 2 – For the first time ever, an 11,000 square-foot ice skating rink will be erected on City Hall Plaza. It's part of "Boston Winter presented by Berkshire Bank," which also features a holiday shopping market open seven days per week.
Blink! At Faneuil Hall – Nightly shows until Jan. 1 – What does a 350,000 LED light show look like? See for yourself at the Faneuil Hall Tree Lighting Spectacular. If you can't make it to the show, catch a live broadcast on WBZ-TV or Channel 4.
One of our favorite #Boston holiday traditions, the lights & sounds show, Blink!, is playing nightly at Faneuil Hall pic.twitter.com/t89hmP9CbY
— Boston University (@BU_Tweets) November 27, 2015
Light Up Seaport – Friday, Dec. 2 – Seaport – Boston has another tree lighting ceremony to be thankful for this year. Visitors to the first annual Light Up Seaport event will watch as the towering evergreen is illuminated near the waterfront. Proceeds from the event benefit Massachusetts Fallen Heroes, The Gavin Foundation, Fort Point Arts Community, and Friends of Fort Point Channel.
SoWa Winter Festival – Friday, Dec. 2 to Sunday Dec. 4 – South End – For one-stop holiday shopping that's more local than corporate, SoWa market promises artisan goods sans corporate sponsors.
CraftBoston Holiday Show – Friday, Dec. 2 to Sunday Dec. 4 – Back Bay – About 175 exhibitors artists, collectors, and craft enthusiasts will present their one-of-a-kind wares at CraftBoston, another must-do stop for locally-minded holiday shoppers in Boston.
Santa Speedo Run – Saturday, Dec. 10 – Back Bay – This one's pretty self-explanatory. Each year, a group of costumed revelers throws back a few hard ones and runs a one-mile course along Boylston Street. It's a sight to be seen – and Insta'd – first-hand.
Photos: 2015 Santa Speedo Run in the Back Bay of #Boston. #SSRun #SSRun2015 https://t.co/Dd9QS3z596 @universalhub pic.twitter.com/X9YNYIx483
— 617 Images Boston (@617Images) December 12, 2015
SantaCon Boston – Saturday, Dec. 10 – Fenway – For those who wish to don their best Santa garb but may have gone a bit light at the gym this holiday season, SantaCon offers a costumed alternative. Participants will dress as Chris Kringle for a bar crawl in Fenway.
The 243rd Anniversary Boston Tea Party Reenactment– Friday, Dec. 16 – Downtown – Every December 16, more than 100 actors recreate one of the most famous acts of resistance ever carried out in Boston, the The Boston Tea Party.
Beacon Hill Holiday Stroll – Thursday, Dec. 8 – Back Bay – One of the best ways to enjoy the holidays in Boston – where snowy winters are the norm – is to simply take a walk outside among the holiday lights. A stretch of the historical Beacon Hill neighborhood will be closed to cars but open for business, with stops for shopping, snapping pictures with Santa, horse and buggy rides, and, of course, Victorian Carolers.
Santa Paws – Sunday, Dec. 4 – Somerville – Bring your dog to Pendleton at Assembly Row and get her picture taken with Santa. But be kind, if you were ever dragged to the mall to take a picture with a stranger in a beard, you probably know how bizarre of an experience that can be. So remember, be kind to Fido.
Yulefest 5k – Sunday, Dec. 11 – Harvard Square – Inspired by a "quirky winter festival" that predates Christmas, check your holiday commercialism at the door and join a 5k run in the spirit of the Yule festival. There'll also be free food and beer after the race.
Ugly Sweater Bar Crawl – Saturday, Dec. 3 and Sunday, Dec. 4 – Various venues – Ugly Sweater parties are great. Ugly sweater bar crawls might just be better. This crawl -- hideous apparel required -- will hit at least eight bars near Faneuil Hall, if you can stand wearing itchy wool that long.
Ciclismo Classico Jingle Ride – Sunday, Dec. 11 – Arlington – The 20th annual bike ride in Arlington bills itself as one of the longest-running Boston holiday sporting events. Cyclists, many of them in costume, will begin a 22-mile ride at Kickstand Café in Arlington Center all the way to downtown Boston. Organizers said Ciclismo is more of a parade than a race. So if you have a bicycle, show up with your holiday spirit and cheer on the riders. 'Tis the season, after all.
Hanukkah: The Festival of Lights – Wednesday, Dec. 14 – Back Bay – The Museum of Fine Arts is having a day-long celebration of the Festival of Lights that features live music, talks, tours, as well as art exhibitions and activities for the family.
Images provided.
More stories:
Copyright Boston - BostInno