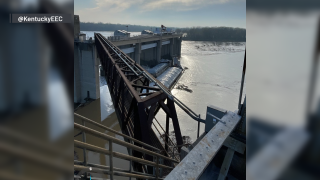 Three barges, including one transporting about 1,400 tons of methanol, were pinned against a dam on the Ohio River in Louisville, Kentucky, on Tuesday, officials said.
The three were part of a group of 10 barges that broke free from their tugboat about 2 a.m. Tuesday after it hit with a structure at the entrance to the Portland Canal, near the river's McAlpine Locks and Dam, Louisville's Emergency Management Agency said in a statement. All except for the one carrying methanol were transporting soy and corn.
"There is currently zero evidence of a tank breach or any leaks, and air and water monitoring resources are in place," the emergency agency said.
The situation prompted officials to limit traffic on the river as state and federal agencies responded and attempted to remove the three barges, U.S. Coast Guard spokesperson Chris Davis said.
The Louisville Water Company said the incident was downriver from its intake, and thus there has been no impact on the city's drinking water.