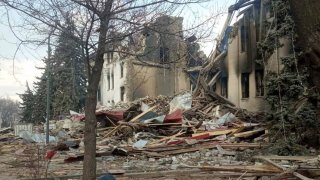 Officials say 130 people have been rescued from the ruins of a theater that served as a shelter when it was blasted by a Russian airstrike Wednesday in the besieged southern city of Mariupol.
Ludmyla Denisova, the Ukrainian parliament's human rights commissioner, said Friday that 130 people had survived the theater bombing.
"As of now, we know that 130 people have been evacuated, but according to our data, there are still more than 1,300 people in these basements, in this bomb shelter," Denisova told Ukrainian television. "We pray that they will all be alive, but so far there is no information about them."
This is a live update. Click here for complete coverage of the crisis in Ukraine.
Copyright AP - Associated Press