The suspect in a deadly shooting that killed three students and injured two others at the University of Virginia is now in custody, capping a tense 12 hours on campus as students and staff sheltered in place overnight.
"The entire university community is grieving this morning," UVA President James Ryan said in a shaking voice Monday morning.
The campus community gathered for a candlelight vigil after dark Monday evening.
The shooting happened aboard a bus full of students who had just returned from a field trip Sunday night after seeing a play in Washington, D.C., officials said.
Ryan identified the victims who were killed as Devin Chandler, Lavel Davis Jr., and D'Sean Perry. All three were members of the UVA Cavaliers football team, he said.
"My heart is broken for the victims and their families and for all those who knew and loved them, and they are all in my prayers," Ryan said. "As I said before when I see our students, I see my own kids, and I cannot imagine anything worse for a parent than to lose a child."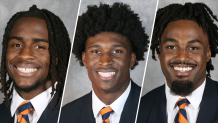 Chandler was a second-year student from Virginia Beach, Virginia; Davis was a third-year student from Ridgeville, South Carolina, and Perry was a fourth-year student from Miami, Florida, Ryan said.
Two of the victims died at the scene; a third was rushed to a hospital, where he died.
UVA officials were not releasing the names of the two wounded students to protect their privacy. One was in critical condition, and the other was in good condition, Ryan said. He said he had spoken to four families and spoke directly to the student who was in good condition.
It wasn't clear what relationship the suspect had with the victims, UVA Associate Vice President for Safety and Security and Chief of Police Tim Longo said.
UVA Shooting Suspect in Custody After Hours-Long Search
University officials were giving a news conference Monday morning when they learned that the suspect, student Christopher Darnell Jones, Jr., 22, was taken into custody.
"Just take a moment to thank God, breathe a sigh of relief," Longo said.
During the search, authorities had warned that Jones was considered armed and dangerous, and anyone who saw him should call 911 and not approach him. UVA police, local law enforcement agencies and Virginia State Police were involved in the search.
Jones was taken into custody "without incident" in the 5700 block of Edgelawn Street in Henrico County, Virginia, the county's police department said.
Henrico County police said patrol officers were on the lookout overnight for the vehicle Jones was believed to be driving, and in the morning, an officer spotted it in the eastern area of the county. Henrico County is located more than an hour southeast of Charlottesville, surrounding the city of Richmond on three sides.
Information on a possible motive or what led up to the shooting was not yet known. Longo said the students were aboard a bus after their field trip when "someone amongst them chose to do an act of violence."
A photo of Jones shared by police also appeared on a 2018 football roster on the website for the Virginia Cavaliers, but the profile said he did not appear in any games that year. On Monday, UVA officials said Jones was still a student, but to their knowledge, he was no longer on the football team and hadn't been for about a year.
UVA Community Sheltered in Place Overnight After Shooting
More than 500 UVA students sheltered in buildings throughout campus for about 12 hours, in classrooms and libraries, Longo said, expressing gratitude for their compliance during the search for the suspect.
"Fortunately, we've been able to lift that alert," Longo said.
The university's emergency management department issued received reports of shots fired at the Culbreth campus parking garage on Culbreth Road in Charlottesville around 10:30 p.m. Sunday.
The editor-in-chief of The Cavalier Daily, the university's student newspaper, told News4's Brandon Benavides she went to the scene when she learned of the shooting and was turned away by an officer.
"A police officer told me that I should turn around and that it was not safe for me to be there... so then I went to shelter in place with some friends for about an hour," Eva Surovell said. "Everyone's awake; everyone's sheltering in place, calling family to confirm they're OK. It's certainly somber, and I think everyone is just letting people in their lives know that they care about them and they're checking in."
Officials advised the community to shelter in place and to contact friends and family to let them know their status. The shelter in place was was lifted about 10:30 a.m. Monday, following "a thorough search" on and around the campus, UVA's emergency management department said.
At that point, the suspect was still at large, but UVA officials said they were confident after their search that the suspect had left the area.
The University of Virginia's Office of Emergency Management established an emergency hotline for family and friends with questions about the incident.
All classes and activities were canceled for Monday Nov. 14, including a men's basketball game scheduled for Monday night, Ryan said. Classes and activities will be canceled again Tuesday, Nov. 15.
Ryan said the UVA community would come together to mourn those lost and honor their lives.
"In the meantime, if you need help, especially our students, please don't hesitate to reach out to the resources listed in the email I sent out early this morning," Ryan said.
The information was also provided on UVA's website. Students may call Counseling and Psychological Services (CAPS) at 434-243-5150, 24 hours a day. Information about CAPS is available on the Student Health and Wellness website. Faculty and staff can find a similar resource through the Faculty and Employee Assistance Program by calling 434-243-2643 or by emailing the office via the FEAP website.
'Heartbroken': Officials, UVA Students, Virginia Leaders, White House React to Deadly Shooting
"I am heartbroken to report that the shooting has resulted in three fatalities; two additional victims were injured and are receiving medical care," UVA President Jim Ryan said before dawn Monday. "This is a message any leader hopes never to have to send, and I am devastated that this violence has visited the University of Virginia."
"These were incredible young men with huge aspirations and extremely bright futures," head football coach Tony Elliott tweeted. "Our hearts ache for their families, their classmates and their friends."
"We will never see what their impact on the world would have been, but we will never forget their impact on us," Athletics Director Carla Williams tweeted.
Virginia Gov. Glenn Youngkin also shared thoughts for the University of Virginia community on Twitter.
"This morning, Suzanne and I are praying for the UVA community. Virginia State Police is fully coordinating with UVA police department and local authorities. Please shelter in place while the authorities work to locate the suspect," Youngkin said.
Youngkin ordered all U.S. and state flags be flown at half staff over all federal and state buildings and grounds in Virginia from sunrise to sunset Tuesday, Nov. 15.
A statement from the White House read in part: "Our deepest condolences are with the countless families, friends, and neighbors grieving for those killed as well as those injured in this senseless shooting. Administration officials are in close contact with state and local officials, and we are grateful for those authorities' swift response to this attack."
The Atlantic Coast Conference Commissioner Dr. Jim Phillips released an official statement regarding the incident. The University of Virginia is a member of the ACC.
"We are heartbroken and devastated over the tragedy last night at the University of Virginia. The ACC is a family and when one member of our family hurts, we all hurt," Phillips said. "Our thoughts and prayers are with all of those impacted and we will continue to support UVA in any way possible during this difficult time."
Both of Virginia's senators shared statements about the shooting, Sen. Tim Kaine saying he was "heartbroken" by the news.
Sen. Mark Warner called it "a tragic act of violence."
This is a developing story. Please refresh for updates.