In a historic groundswell of youth activism, hundreds of thousands of teenagers and their supporters rallied across the U.S. Saturday against gun violence, vowing to transform fear and grief into a "vote-them-out" movement for tougher laws on weapons.
They took to the streets of the nation's capital and cities such as Boston, New York, Chicago, Houston, Minneapolis, Phoenix and Los Angeles, in the kind of numbers seen during the Vietnam era, sweeping up activists long frustrated by stalemate in the gun debate and bringing in lots of new, young voices.
Here are some of the top moments from the March for Our Lives demonstrations:
EMMA GONZALEZ'S MOMENT OF SILENCE
Marjory Stoneman Douglas High School shooting survivor Emma Gonzalez, who has become a leading voice in the student-led movement, held a moment of silence to honor the 17 people killed at her high school during her speech in Washington, D.C.
Emma Gonzalez Captivates in Moment of Silence
PAUL McCARTNEY JOINS THE MARCH IN NYC
When asked why he was participating in the New York City rally, former Beatle Paul McCartney said one of his best friends was killed by gun violence nearby. Fellow Beatle John Lennon was killed outside his Manhattan apartment in 1980.
Paul McCartney Joins March For Our Lives in New York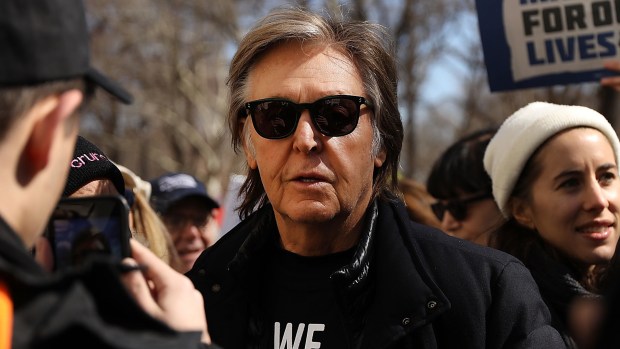 MLK'S GRANDDAUGHTER SHARES HER DREAM IN DC
Nine-year-old Yolanda Renee King told the crowd that she had a dream "that enough is enough," echoing the words of her grandfather, Martin Luther King Jr. She said, "this should be a gun-free world, period."
MLK's Granddaughter Speaks at March for Our Lives Rally
11-YEAR-OLD WALKOUT ORGANIZER: DON'T UNDERESTIMATE KIDS
Naomi Wadler helped lead her elementary school walkout on March 14 in Alexandria, Virginia. She spoke in Washington, D.C., about how kids "know what is right and wrong."
11-Year-Old Naomi Wadler Speaks at March for Our Lives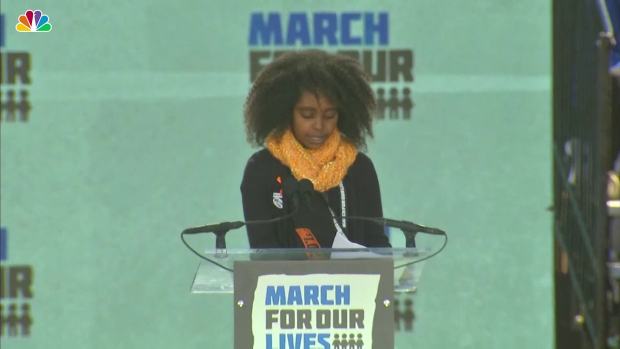 THE WORLD MARCHES WITH THE U.S.
France, Italy, Sweden, England and Canada all held marches in solidarity with the March for Our Lives demonstrations in the U.S.
Rome, Paris Lend Support and Join in March for Our Lives
SAMANTHA FUENTES LEADS CROWD IN SINGING 'HAPPY BIRTHDAY' TO FALLEN CLASSMATE
Marjory Stoneman Douglas High School shooting survivor Samantha Fuentes led a large crowd in singing "Happy Birthday" to her fallen classmate and friend.
Samantha Fuentes Leads Crowd in Singing 'Happy Birthday' to Fallen Classmate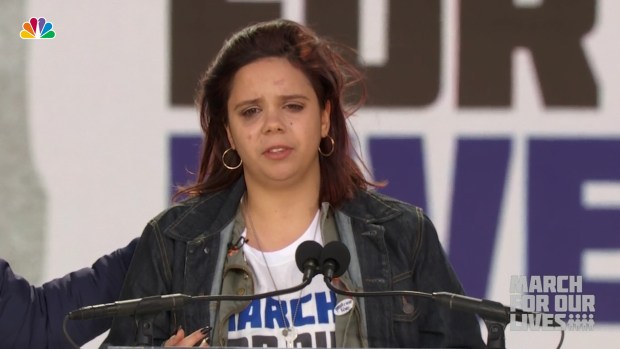 EDNA CHAVEZ DELIVERS EMOTIONAL SPEECH
The South LA student, speaking to the national crowd in D.C., made an impassioned plea to end the gun violence in her community and highlighted how the violence affects people of color.
South LA Student's Emotional Speech at March for Our Lives
AMY SCHUMER CALLS OUT THE NRA IN LA
The actress spoke out against the National Rifle Association at the rally in Los Angeles. Schumer has been vocal against gun violence, as two young women were shot to death in 2015 at a showing of her movie "Trainwreck."
Amy Schumer, Olivia Wilde Call Out NRA at LA Rally