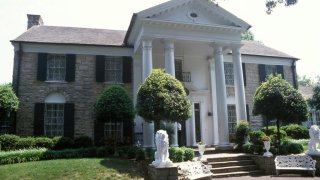 Graceland is welcoming another angel.
Lisa Marie Presley, the only daughter of Elvis Presley will be laid to rest at the singer's iconic mansion on Jan. 22, 10 days after she passed away at the age of 54. Ahead of her burial, the grounds of the superstar's Memphis home will be opened for a public memorial service honoring the singer-songwriter and mom of four, a representative for her eldest daughter Riley Keough confirmed to E! News, noting that she, 14-year-old sisters Harper and Finley Lockwood and Lisa Marie's mom Priscilla Presley "are grateful for the support, well-wishes and outpouring of love honoring their beloved Lisa Marie." 
Following Elvis' death in 1977 at the age of 42 and his father Vernon Presley's passing in 1982, Priscilla made a similar decision to open Graceland to the public, turning the property into a destination for fans of the King of Rock 'N' Roll. The 14-acre grounds serve as the final resting place for Elvis, who died of a heart attack at his beloved home, his parents Vernon and Gladys Presley, and Lisa Marie's son Benjamin Keough, who died by suicide in 2020 at age 27.
The decision to allow the public to visit Graceland stemmed from the high estate and inheritance taxes Elvis' family were facing after his death, with Priscilla ultimately making the decision not to sell the property.
"I realized as it was going on that there really wasn't any money that could support Graceland or any of the people that worked for Elvis that were still there," Priscilla told "Billboard" in 2012. "I had decision to make to somehow save Graceland."
40 years later, Graceland has been visited by more than 23 million people and was declared a National Historic Landmark in 2006. Ahead of Lisa Marie's memorial, go inside the iconic estate and learn some facts about one of the world's most-visited homes:
Elvis Presley was just 22 years old when he bought his Graceland home in Memphis, Tenn., on March, 25, 1957. The singer paid $102,500 for the property, which already had its famous moniker. The home's previous owners Dr. Thomas Moore and his wife Ruth named the mansion after Ruth's aunt, Grace Toof, when they build the Colonial Revival style home in 1939.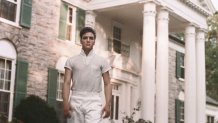 Sadly, the legend died of a heart attack at Graceland on Aug. 16, 1977, when he was only 42.
In the wake of Lisa Marie Presley's death at age 54 on Jan. 12, Graceland will be inherited by her three daughters—Riley Keough and Harper and Finley Lockwood—a representative for Graceland confirmed to E! News.
Lisa Marie took complete ownership of the home when she turned 25 in February 1993. Graceland will also serve as the location for Lisa Marie's final resting place, a rep for Riley confirmed to E! News. She will be buried alongside her father and her son, Benjamin Keough, who died by suicide in 2020 at age 27.
Graceland welcomes over 600,000 visitors each year and is the most famous home in America after The White House. It was named to the American National Register of Historic Places in 1991.
The property offers ticketed visits for guests to see Presley's jumpsuits and classic car collection, as well as his personal home, Vernon Presley's business office, Presley's trophy building, his racquetball center and the meditation garden, where the King of Rock and Roll was laid to rest.
When Presley first purchase the home it was 10,266 square feet. Today, it's now expanded to 17,552 square feet on 13.8 acres of land. 
When the "Jailhouse Rock" singer was at the home, the weekly grocery bill was around $500, according to David Adler's book, "The Life and Cuisine of Elvis Presley." The specific items to be stored in the Graceland kitchen at all times included a case of Pepsi, steak, hamburger buns, cans of sauerkraut, wieners, at least six cans of biscuits, brownies, banana pudding, lean bacon, mustard, ice cream, fudge cookies, brownies, and assorted fresh fruit.
In addition to five staircases and three fireplaces, the home also has a billIards room and a lair that Presley referred to as "The Den". Complete with a waterfall, wooden walls, a grass shag carpet and plastic foliage, fans began calling it "the Jungle Room" when Graceland was opened to public visitors in 1982.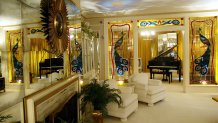 According to Rolling Stone, Presley turned the oasis into a temporary  studio to record 16 songs that were released on 1976's "Elvis Presley Boulevard", "Memphis", "Tennessee", and 1977's "Moody Blue."
The official Elvis Instagram account revealed that the Heartbreak Hotel actor was "a huge TV junkie" and "actually had 14 TV screens set up all around the Graceland mansion."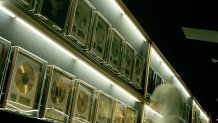 His programming of choice? "He loved to watch football," the caption read, "and prime-time favorites like "Laugh-In", "The Untouchables", "The Tonight Show" and The "Match Game."
Though Presley and Priscilla Presley divorced in 1973, she became a co-executor of Graceland after the 1979 death of the singer's father, Vernon Presley. She has been instrumental in keeping the estate up and running as a tourist destination and her ex one of the highest-earning deceased celebrities of all time. 
Copyright E! Online