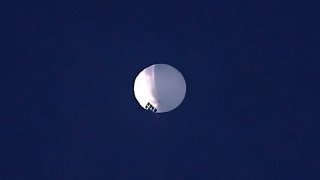 President Joe Biden said Saturday that his administration would "take care" of the Chinese spy balloon that has been hovering over the U.S. in the past few days, when asked by a reporter as he deplaned Air Force One.
"We're going to take care of it," Biden said, the first time he had spoken on camera about the balloon, NBC News reported. He did not say what his administration planned to do.
The Associated Press reported meanwhile that the administration is considering a plan to shoot the balloon down once it is above the Atlantic Ocean where the remnants could potentially be recovered, according to four U.S. officials. The officials spoke to The AP on the condition of anonymity to discuss the sensitive operation.
The officials told The AP that it was unclear whether a final decision had been made by Biden.
The Federal Aviation Administration said Saturday afternoon that it was pausing departures and arrivals at three airports, in North and South Carolina, to support the Department of Defense in a "national security effort."
"The FAA has paused departures from and arrivals to Wilmington (ILM), Myrtle Beach International (MYR) and Charleston International (CHS) airports to support the Department of Defense in a national security effort," it said in a statement.
The balloon is suspected of conducting surveillance on the U.S. military.
The public disclosure of the balloon led to the cancellation of a visit by U.S. Secretary of State Antony Blinken to Beijing scheduled for Sunday for talks aimed at reducing U.S.-China tensions. The Chinese government on Saturday sought to play down the cancellation.
Some Republicans in Congress have said the U.S. should have shot it down, NBC News reported.
Pentagon Press Secretary Pat Ryder had said on Friday that the military was still "reviewing options" but had not taken the balloon down because "right now we assess that there is no physical threat or military threat to people on the ground."
The balloon was spotted over Billings, Montana, on Wednesday after having flown over Alaska's Aleutian Islands and through Canada.