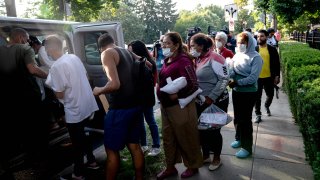 The country's top border official blamed Republican governors for drawing more migrants to the U.S. by promising them free bus rides north to places like New York, Washington, D.C., and Martha's Vineyard, Massachusetts.
Customs and Border Protection Commissioner Chris Magnus said in an interview that in some cases, the governors of Texas, Arizona and Florida are "lying" to migrants about what opportunities might await them in those cities and that it is "luring" others to come to the U.S. 
Homeland Security Secretary Alejandro Mayorkas also criticized Republican governors for sending migrants to other cities in an interview with José Díaz-Balart on MSNBC.
"When a governor acts unilaterally and refuses to coordinate with other government officials, that is when problems arise. And that is when we deplore political stuntsmanship when we're dealing with the lives of vulnerable individuals," Mayorkas said. 
Read the full story on NBCNews.com