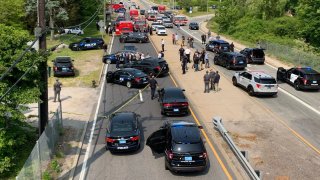 Family, friends and the community in Johnston, Rhode Island are mourning the lives lost in a shooting earlier this week.
Thomas "T.J." May was shot and killed by his neighbor. May's daughter was also injured in the shooting.
May was a Johnston Little League coach. The vice president of the league, Michael Orsini, said that May's impact in the community will never die, according to WJAR.
"Trying to bring a kid up all the time if he was struck out or if he got out more about character development and just being a good guy," said Orsini.
Another victim, 83-year-old Janet Harrison, was remember fondly by her friend, Kathy Delfino.
"She was the kindest, sweetest woman you ever met. I am devastated over this," said Delfino.
One victim was found in the suspect's home and another in a neighbor's home on Wednesday morning, police said. Johnston police told WJAR they had responded to 2 Ligian Court on Tuesday night after a father said he caught his neighbor, 52-year-old James Harrison, outside of his daughter's bedroom with a ladder.
The father, identified by police as 44-year-old May, called police after Harrison ran back to his residence at 4 Ligian Court. Johnston police said the father asked to file a no trespass order against Harrison, but the officer couldn't locate Harrison and left the scene.
Around 7:30 a.m. the next morning, the same officer returned to 4 Ligian Court to issue the no trespass notice and saw Harrison leaving in a dark blue Buick Encore. The officer said Harrison made a hand gesture toward him consistent with shooting a gun.
The officer then saw the 15-year-old girl, later identified as May's daughter, lying on the ground at 2 Ligian Court with gunshot wounds and stopped to help. May was found dead in the garage of a fatal gunshot wound to the head.
The girl identified the shooter as Harrison, and police issued a be on the lookout notice.