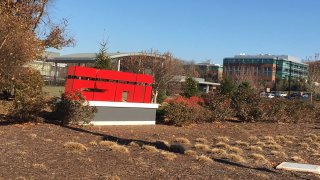 Dennis "DJ" Hernandez, the brother of the late NFL player Aaron Hernandez, is accused of throwing a brick at ESPN headquarters in Bristol and has been charged with breach of peace.
Police said they were called on March 23 to check on 36-year-old Dennis John "DJ" Hernandez, of Bristol.
The person who contacted them was concerned after he made statements about wanting to destroy property at the State Capitol and ESPN and smash out windows, according to a report from the Bristol police department.
The officer then went to ESPN and reported that a redacted name was advised that Hernandez was a former Division 1 college athlete who had ties to ESPN throughout his career, and the brother of former New England Patriot Aaron Hernandez.
Police said Dennis Hernandez had arrived at ESPN in an Uber, which drove up to the gate, and he threw something onto the campus, then left.
As police investigated, they found a large brick and a handwritten note.
"To all media outlets, It's about time you realeyes (sic) the affect media has on all family members. Since you're a world wide leader maybe you could lead how media and messages are delivered brick by brick. Clean it up!," the police report says. It was signed, ' "Yours truly, Dennis J. Hernandez."
The incident prompted ESPN security to shut down the entrance and exit to the campus for about half an hour.
Police said Hernandez admitted that he was at ESPN and didn't wish to speak about the incident.
Hernandez's late brother, Aaron Hernandez, was a local football star from Bristol who went on to play for the Florida Gators, then in the NFL with the New England Patriots.
Aaron Hernandez was arrested in 2013 and convicted in 2015 of killing semi-professional football player Odin Lloyd.
Two years later, the 27-year-old killed himself in his prison cell days after being acquitted of most charges in a separate double-murder case, the 2012 drive-by shootings of two men in Boston.
Dennis Hernandez was charged with breach of peace in the second degree and was issued a summons.
He was released on a promise to appear and is due in New Britain Superior Court on April 6.
He was also advised that he is no longer allowed at any ESPN campus.
NBC Connecticut and Associated Press