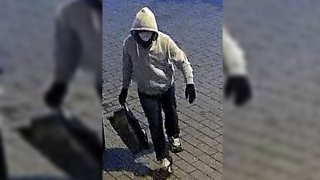 Federal investigators have increased the reward for information leading to the arrest of the person who left two pipe bombs near the Capitol the day before the Jan. 6, 2021, riot by fivefold, to $500,000, the FBI said Wednesday.
The announcement, made ahead of the two-year anniversary of the attack on the U.S. Capitol, indicates that federal investigators are still stumped when it comes to the identity of the person who left the devices outside the Republican National Committee and Democratic National Committee headquarters on Capitol Hill.
In a news release, the bureau noted that "many of the components used to build the pipe bombs were widely available for purchase in-store and online," including "1x8-inch threaded galvanized pipes, end caps, kitchen timers, wires, metal clips, and homemade black powder."
"In raising the reward for information about the pipe bomb suspect from $100,000 to as much as $500,000, the FBI and our partners are seeking to encourage the American public to take a fresh look at our Seeking Information website, which includes images and video of the suspect, the suspect's backpack, the suspect's shoes, the explosive devices, and a map of the route the suspect walked the night the pipe bombs were placed," the bureau said.
Read more at NBCNews.com.