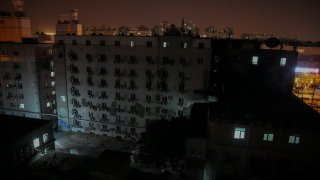 The death toll from a fire at a Beijing hospital has risen to 29, including 26 patients, authorities said Wednesday. A nurse, a medical assistant and a family member also died, said Li Zongrong, deputy head of the Fengtai district.
The fire at the private Changfeng Hospital that broke out Tuesday afternoon forced dozens of people to evacuate and prompted some of those who were trapped to escape from windows using bedsheets tied together.
The cause of the fire is under investigation but officials say they believe it originated from welding sparks from work being carried out in the hospital's inpatient wing. Authorities have detained 12 people, including the hospital's head and her deputy, along with the head of the construction crew.
A total of 39 people are being treated for injuries, three of them in critical condition, officials said. Rescue crews and medical staff from around the city were mobilized, with squads plucking some of the 142 people who were evacuated from air conditioning units on the building's exterior.
Safety rules are frequently ignored in China, but accidents on the level of the Changfeng fire are treated with a much higher level of scrutiny. Construction accidents occasionally result from corners being cut on work hours and safety conditions, while local officials are bribed to ignore violations.
The central government has pledged stronger safety measures since an explosion in 2015 at a chemical warehouse in the northern port city of Tianjin killed 173 people, most of them firefighters and police officers.
Copyright AP - Associated Press