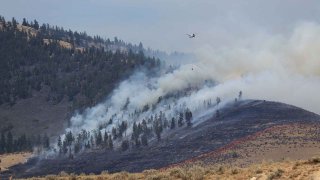 A historic trial is set to begin in Montana next month, as a group of young people attempt to hold the state accountable for what they consider unconstitutional energy policies. This will be the first constitutional climate trial and the first children's climate trial in U.S history.
The case Held v. State of Montana, which will be heard at the First Judicial District Court in Helena, centers around a lawsuit filed by 16 Montana youths. The group is accusing the state's fossil-fuel-based State Energy Policy and the Climate Change Exception in the Montana Environmental Policy Act of "harming these youth plaintiffs and infringing on their constitutional rights."
Represented by attorneys from the Western Environmental Law Center, McGarvey Law and Our Children's Trust, the plaintiffs allege the defendants continue to "act affirmatively to exacerbate the climate crisis" that is already responsible for a "host of adverse consequences." These existing issues they attribute to the climate crisis include rising temperature, increased risk of drought and volatile weather and a rise in the intensity of wildfires, all of which contribute to a "numerous adverse health risks, especially to children."
The lawsuit goes on to accuse the state of degrading the Public Trust Resources which includes water, public lands, fish and wildlife.
While at first glance this might seem like the latest in a long line of lawsuits regarding environmental responsibility, it's garnered the attention of legal and environmental experts who consider it a window into the merits of climate change and how state policy could change accordingly.
The plaintiffs specifically say the state's policies violate the right to a "clean and healthful environment" established in the Montana state Constitution. New York and Pennsylvania are currently the only other states with a similar constitutional protection, but at least nine other states are considering bills in 2023.
This landmark case also challenges legal norms as the first ever youth-led climate movement to make it to trial. Just last September, Virginia rejected a similar lawsuit on the grounds of sovereign immunity, claiming that the plaintiffs sought to interfere with the state's ability to issue fossil fuel infrastructure permits and disrupt government operations.
At the time of filing, the plaintiffs ranged in age from four years old to 20.
According to the three legal groups involved in the case on behalf of the youths, they don't seek money. Rather, they're requesting that the courts declare that their constitutional rights are being violated, with the expectation that they end the harmful policies and uphold the constitutional right to a "safe and stable climate, now and for future generations."
The trial begins June 12 and concludes the following Friday, June 23.