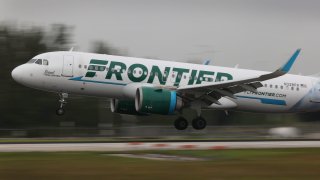 Did someone say unlimited flights?
Frontier Airlines is offering "all-you-can-fly" summer and annual passes.
For $399, the GoWild! Summer Pass gives access to Frontier's domestic and international destinations from May 2 through Sept. 30.
"Everyone loves summer vacation and, with the new GoWild! Summer Pass, you can enjoy even more of what you love," said Daniel Shurz, senior vice president of commercial at Frontier Airlines. "For people with flexible schedules, this is a terrific opportunity to have a truly epic summer and then some, soaking up rays on the beach, exploring national parks and visiting new cities."
Travelers who purchase the annual pass for $1,299 can start booking and flying on May 2.
Frontier said it serves destinations throughout the U.S., Mexico, the Caribbean and Latin America.
Domestic flights can be booked the day before departure. International flights must be booked at least 10 days before travel.
Pass holders are responsible for a fare of $0.01 for each flight plus applicable taxes, fees and other charges at the time of booking. For domestic travel, the charges start at approximately $14.90 per person, per flight. The charges vary widely for international travel but can cost more than $100 per person, per flight, according to the company's website.
The pass price does not include add-on products like advance seat assignments, carry-on baggage or checked baggage.
Flights are subject to the blackout periods below, which include the Fourth of July, Christmas and New Year's Day:
2023: May 25, 26, 29; June 29, 30; July 1-5, 8, 9; Aug. 31; Sept. 1, 4; Oct. 5, 6, 9; Nov. 18, 22, 24-27; Dec. 16, 17, 22-24, 26-31
2024: Jan. 1, 15; Feb. 15, 16, 19; March 3, 10, 15-17, 22-24, 29-31; April 5-7, 12-14
Only pass holders are allowed to travel with GoWild! Pass privileges. Travel with the pass is not eligible for earning miles or status.
You must be at least 18 years old to purchase a pass.
The introductory price is available for a limited time.