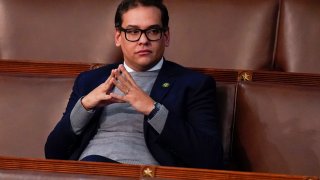 Rep. George Santos, R-N.Y., has claimed that his mother was at her office inside the World Trade Center during the 9/11 terrorist attacks, but records obtained by NBC News on Wednesday show she was living in Brazil at the time.
The immigration records, unearthed through a Freedom of Information Act request by genealogical researcher Alex Calzareth and first reported by The Washington Post, show that Santos' mother, Fatima Caruso Devolder, was admitted to the U.S. in April 2003 and had not been in the country since 1999. She had been living in Rio de Janeiro.
Devolder last left New York in 1999 and claimed in 2001 when she was back in Brazil that her green card had been stolen, according to the records. She later applied for re-entry and was re-admitted into the U.S. in 2003, the records show.
Santos' office did not immediately respond to a request for comment Wednesday.
For more on this story, go to NBC News.