The memory of Tyre Nichols as someone with a passion for skateboarding lives on through his family, friends and now, through the people online amplifying and sharing a video of him "living his best life."
Nichols, 29, brutally died following a traffic stop on Jan. 7. Before Memphis Police publicly released the graphic footage of his death on Jan. 27, a video of Nichols doing what he loved went viral on social media.
In the nearly 2-minute clip, Nichols can be seen skateboarding in a variety of settings, including against a bright sunset, and performing tricks on his board. Nichols' family confirmed the authenticity of the video to NBC News.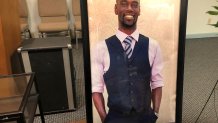 The Twitter user who shared the clip wrote on Jan. 26 that this video of Nichols should be amplified over the footage of his death.
"Before the Memphis Police Dept. releases the video of 5 MPD officers murdering #TyreNichols during a routine traffic stop, and that heinous video inevitably goes viral, I want to amplify THIS video of Tyre LIVING his best life," the user wrote, adding the hashtag, "JusticeForTyreNichols."
"I knew once the body cam was released, chances of wiping those images from our psyche would be impossible," the user added on Jan. 28.
Nichols enjoyed skateboarding and taking pictures of sunsets, his mother, RowVaughn Wells, said at a news conference on Jan. 23.
"That was his passion," she said.
The video, which was uploaded to YouTube in 2010, has received more than 200 comments. On Twitter, more than 1,500 users have re-shared the video.
"This is the only video of Tyre Nichols you should be sharing," one user said.
Camara Williams, who also shared the video of Nichols skateboarding, wrote "I want to display Tyre living in joy and peace."
Williams told Insider that the video of Nichols' joy resonated.
"I saw that and I was like, 'wow, this is something that we've all had,'" Williams told the outlet. "We've had moments where we enjoyed the sunset, or where we were doing something that made us happy, whether it's cutting some wood or gardening or doing something that may be unremarkable in the greater scheme of life, but it was remarkable in that it gave us peace. I felt like that is that was such a beautiful thing to capture and share."
Nichols was hospitalized in critical condition and died three days after five Memphis Police Department officers stopped him for reckless driving on Jan. 7, police initially said in a statement.
The five former police officers were taken into custody and charged in the death of the 29-year-old. Attorneys for two of the officers said their clients plan to plead not guilty.
"I just think about the fact that I'll never see my son again. I'll never see that smile again. He'll never see his son grow up," Wells told NBC News on Friday. "I'm waiting for my son to walk through the door and he's not."
Angelina Paxton, a childhood friend of Nichols, said his death made her lose her faith in "life and humanity."
"Bad things like this don't happen to good people in my head," she said. "It has made me afraid of the world now."
This article first appeared on TODAY.com. More from TODAY:
Copyright Today Digital Originals